Slacker Relaunches With New Design and New Apps
Today Slacker unveiled a new design for its website and apps, along with a relaunch of the service to help it better compete with Pandora and Spotify.
Slacker is a music streaming service with a wide range of music that lets users customize their own Internet radio station. The service is similar to Pandora in that way, except Slacker claims it has a wider selection of music than Pandora.
Slacker has over 200 genre and specialty stations, but users can also create their own stations easily. The new Slacker lets users easily create stations based on a number of artists easily. Pandora offers a similar feature, but Slacker simplifies the process of adding multiple artists to one station.
https://www.youtube.com/watch?v=8Ljv49TA82E
The new Slacker design extends to both the new iPhone and Android apps, with updated Windows Phone and BlackBerry apps to come later. The new layout uses a lot of white and blue, as opposed to the darker colors the service previously used. The apps are also easier to use now with menus that look similar to Microsoft's Metro UI.
Users can start using the new apps without ever signing into the service. To customize stations users will have to sign in with at least a free account. Users with free account will have only six skips per hour and will have to sit through ads from time to time.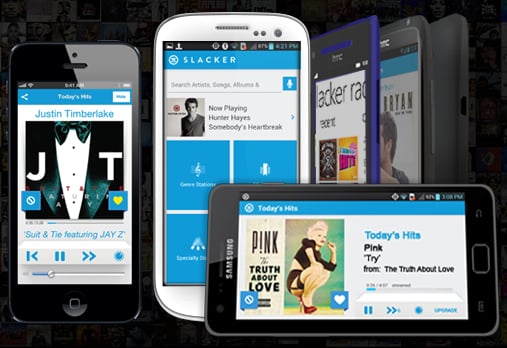 Slacker offers two payment tiers to get rid of ads and add more features. The first, Slacker Radio Plus costs $3.99 per month and gets rid of ads and song skip limits. The subscription also lets users download stations to listen to when they have no connection and gives them access to ABC News, ESPN News and song lyrics.
Slack Premium costs $9.99 per month and gives users the same features as Radio Plus and some additional features. Those additional features include the ability to play individual songs and albums on demand. It also lets users create playlists with individual songs in addition to stations.
In addition to Spotify and Pandora, the new Slacker may eventually have to compete with the rumored Radio service from Apple.

As an Amazon Associate I earn from qualifying purchases.