Slashgear Slate Shootout: Galaxy Tab vs ViewPad 7
Well, that didn't take long. When I saw that Chris Davies had a Viewsonic Viewpad 7 on hand and knew he also had a Galaxy Tab from Samsung, I figured a comparison post was soon to make its debut. And sure enough it has. Although it doesn't go completely in depth, (he just got his hands on the ViewPad), he does give us a good comparison of the physical dimensions and specs of the two devices. We already know there's a big price difference with the Galaxy Tab being more expensive, so what does that price difference really buy you?
Head over to SlashGear to find out.
Side note: I got asked in an email today if I was going to pick up a Samsung Galaxy Tab for review. My answer is simple. No. If a review unit comes my way, I'll give it a thorough going over, and would be happy to do that. But I'm not going to spend money for a device that Samsung has basically labeled obsolete before they started shipping the current model. Google's saying that Android 2.2 doesn't cut it on these devices doesn't make me want to plunk down some cash either. I can't justify that purchase.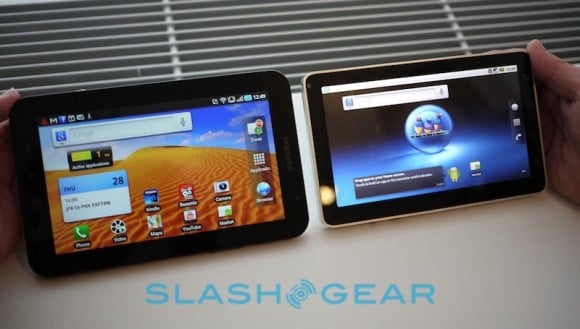 As an Amazon Associate I earn from qualifying purchases.