Sling TV Packages: What's the Best Value?
Sling TV is one of the best streaming options for cord-cutters. It was the first live TV streaming service to hit the market, still one of the cheapest, and offers a great mix of live TV, sports, and family channels.
In this guide we'll compare the two main Sling TV packages, Sling Orange vs Sling Blue. From what channels are available, the number of streams, and help you decide what's best for you. Or, you can just get both for only $40 a month. Here's what you need to know.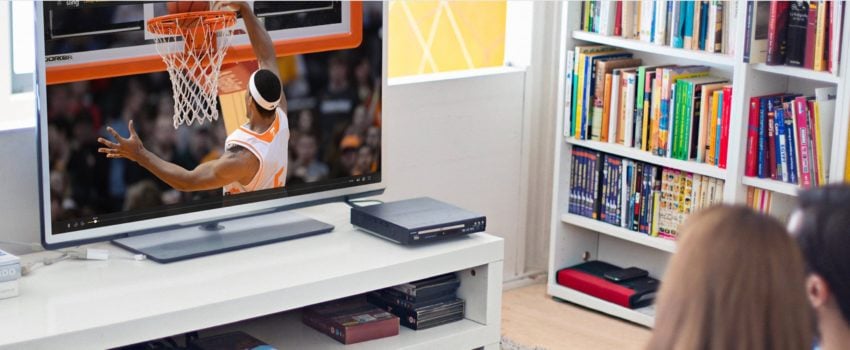 | Sling TV Packages | Channels | Price Per Month | Streams | Try it Today |
| --- | --- | --- | --- | --- |
| Sling Orange | 30+ | $25 | 1 | Free Trial |
| Sling Blue | 45+ | $25 | 2 | Free Trial |
| Both Sling Orange + Sling Blue | Over 50 channels | $40 | 4 | Free Trial |
As you can see, Sling TV offers two different programming options for the same price. Both Sling Orange and Sling Blue are $25 a month, but one has way more channels. So what's the difference? Here's the full breakdown, including one very important detail — how many people can stream Sling TV at a time.
Sling Orange vs Sling Blue Channels
There are a fair amount of channels provided with both packages from Sling TV. You get news, sports, movies, lifestyle, plus popular series channels like AMC. Sling's lineup covers everyone in the house. From Mom, Dad, and the kids.
Sling Orange gives you channels like Disney and ESPN while Sling Blue cuts those out in favor of FOX, USA, and regional sports. You don't get some of the most popular channels if you choose Blue, but you do get local favorites and a bigger selection of sports, so it's all about what's best for you.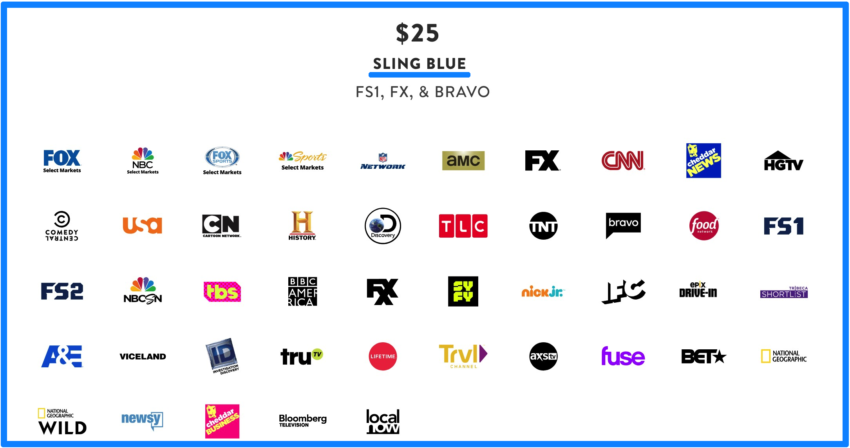 While you don't get ESPN on Sling Blue, ESPN doesn't show a lot of sports to begin with. Instead, Blue offers the NFL Network, Fox Sports, FS1, FS2, and it's the only way to get NFL Redzone from Sling. Basically, you're giving up ESPN and Disney but getting a lot in return.
Simultaneous Streams?
Another big difference between Sling Orange and Sling Blue is how many devices can stream Sling TV at a time.
Sling Orange – Only one device can stream live TV at a time
Sling Blue – Up to three devices can stream live TV simultaneously
With Sling Orange, you can watch TV in your living room or bedroom, and that's it. If you have a bigger household or kids, Sling Blue is the better option. That way you can watch Fox Sports in your TV room while your children watch Cartoon Network or AMC.
If you subscribe to both Sling Orange + Blue you still only get one stream of Orange channels at a time, and three of Blue. Basically, up to four devices can stream Sling TV at the same time.
Extra Channel Packages (Add-ons)
While Sling TV might not have as many channels as some of the competition like YouTube TV or DirecTV Now, they have an expansive list of add-on packages. These "ala carte" channels typically cost an extra $5  a month but are totally worth it. We're talking about HBO and STARZ.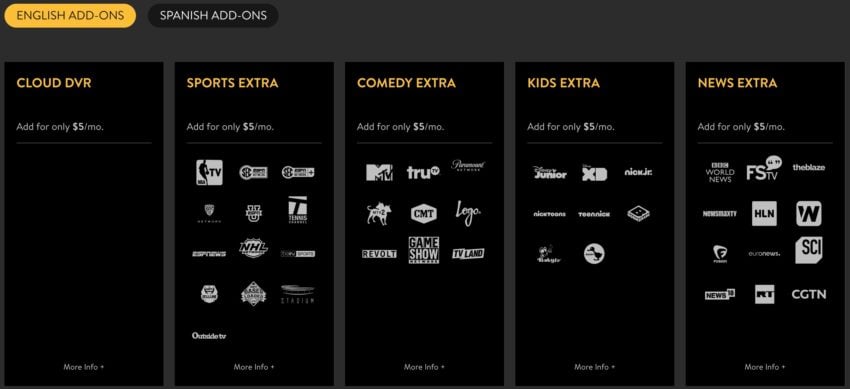 Sling TV add-on packages include cloud DVR, sports, comedy, kids, news, Hollywood specials, HBO, Epix, Showtime, Stars, the Blaze, Lifetime, Spanish channels, international programming and more. These range from an extra $5-$9 per month but offer a good value.
What's the Best Value?
When it comes to choosing between Sling Orange and Sling Blue it all boils down to what you or your family want the most. If you have children, you'll probably want Sling Orange (or both packages) for all the kid-friendly content like the Disney channel.
If you're into sports or a single guy, Sling Blue gives you the most channels for the money and its the only way you can get the NFL Redzone on Sling. Personally, we recommend Sling Orange along with an HD antenna for local channels, which will show up inside the Sling TV guide. This gives you a great all around selection for $25.
Sling Orange + Blue (Get them both)
If you cut the cord and canceled cable, it was likely to save money. Which is why Sling TV prides itself on offering some of the most popular and most-watched channels all for only $25 a month, with no contracts.
However, to get the best of both worlds they'll let you combine both $25 packages, a $50 value, for only $40 if you subscribe to Sling Orange + Sling Blue. That's what we recommend for most people. You can always remove half next month.
If you're interested, click here to try Sling TV for free.