SlingBox Pro-HD Review: Bring Your TV With You
The SlingBox Pro-HD along with the collection of SlingPlayer apps does a decent job of streaming your home TV content to your Apple iPad, iPhone, iPod Touch, Android device or laptop.
Unlike cable TV apps, which restrict use to your house and to specific cable companies, the SlingBox Pro-HD works anywhere you have an Internet connection. This convenience comes at a cost, but there's no real competition.
The SlingBox connects to your TV, your video sources and your Internet-connected network. The box takes the media from your video sources and passes it to the TV set while also streaming it over the network to a mobile device app or their website.
Video Review
Pros and Cons
Pros

Watch TV on the go
Hardware setup instructions simple to follow for most
Video quality surprisingly good
Full control of your set-top box
iOS app supports mirroring with Apple TV or vide connection dongles

Cons

Slight lag when controlling set top boxes
Only as reliable as your Internet connection
Box design too big
Software setup challenging due to indecipherable captcha and complicated network configuration
Setting Up the SlingBox
The setup process was straightforward. You get a large poster explaining exactly how to connect the SlingBox Pro-HD to your TV and video sources. In my case I plugged it into the TV and network and then plugged my DirecTV DVR box to the SlingBox via the included component cable. I also connected my basic cable input and my Roku box. The SlingBox comes with IR blasters, which you position so that they can send and IR signal to your various boxes. I've used these in the past with limited success, but the one that came with the SlingBox worked well.
The SlingBox works as a passthrough device so you can see all of your content just as if it was connected directly to the TV with no signal degradation.
I had trouble setting up an account because the captcha used to make sure you're a human instead of a bot was so cryptic that I couldn't read it. I had to try again four times before I could get the right letters. Also, my DirecTV receiver wasn't listed, but thanks to their online help forum, I chose a similar satellite DVR box and it worked fine.
I had to reconfigure my network router to forward a port to make the SlingBox work. For the average user that's a pretty advanced configuration needed and might keep a lot of people from making it work. If you're lucky to have a router in their website's database of popular routers, then you get instructions to make it work. Mine wasn't, so I had to use the generic instructions. If I didn't have experience doing this, I might have been lost at this point.
The SlingBox device takes up a lot of room, compared to other Internet based TV devices like Apple TV and Roku, so you should plan for a large spot near your TV. I wish they could shrink the design of the SlingBox Pro-HD.
SlingPlayer Mobile Apps
Each version of the SlingPlayer mobile app costs $29.99. If you use an iPhone, iPad, Android device and a Kindle Fire, then you could pay up to $120 for the apps on top of the $179.99 (for the SlingBox Solo) or $299.99 (for the SlingBox Pro-HD). That's pretty expensive. There's little competition although I've recently learned of a similar solution from Monsoon Multimedia which costs half as much as the Solo.
Once you get past the sticker shock the apps work great! I tested the iPad app first. Fire it up, enter your account email/password and you're ready to go.
The Home screen has tabs for the following:
Settings – configure the app
Connect – establishes a connection to your SlingBox
Guide – channel guide to see what's playing on the channels you get with your various video sources
Director – shows all the boxes connected to your account
Help – shows the support website
Begin viewing media by either tapping Connect or going into the Guide and selecting a channel from the list.
You can view the video from your set top box and control it. For example, on my DirecTV DVR I could change channels, set recordings, pause, rewind and fast forward shows and go into the box's settings menu. It even has the 30-second skip feature so you can move past commercials in paused or recorded shows.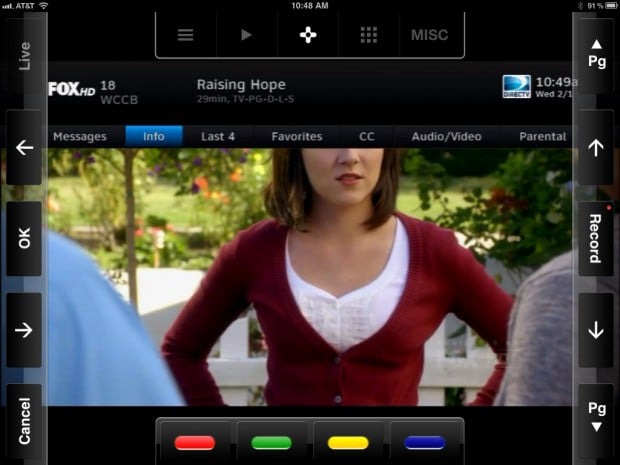 The controls lag a bit. When you press the pause button it takes a second to send the command through the Internet to the SlingBox, which then sends the video signal back to your iPad.
With fast Internet the video looks good. I used it in a hotel room and the free Wi-Fi caused all kinds of stuttering and pixelation. When I switched to 4G LTE from my Mi-Fi it looked fine. The video above was taken in a coffee shop with an average speed Wi-Fi signal.
Sling Media just introduced a new Amazon Kindle Fire app to go with the Windows Phone, Blackberry, Android, iPhone and iPad apps. They also have an app for the Logitech Revue Google TV device.
You can only have one client app or webpage accessing the SlingBox at a time. If someone logged into the iPhone and you want to watch on your iPad, you will get an error message. There's no way to upgrade so more than one person can connect at a time. Since you have to pay $30 for each app, I'm not a fan of this limitation.
On a whim I tried to mirror the app with my Apple TV and it worked. You get all the controls on your iPad while the video streams to the Apple TV. You could use this to view cable or satellite on an Apple TV. I could imaging hooking my Apple TV up to a video projector and watching big events on a large screen in the backyard. Have a movie night or watch the Final Four with 30 friends at a cookout!
SlingPlayer Website
If you want to watch your TV through a computer's web browser you can via the SlingBox website. You get all the same features including fullscreen mode or a Pop Up player that you can put on a different display. You can switch to different connections and view all of your DVR recorded shows. It works as well as the apps giving you more options. Most importantly, using the website costs nothing. Sling Media includes it in the cost of the box.
You can't view the website on a mobile browser unless it supports full flash, meaning only some Android devices and of course no iOS devices will work. See the above video for a brief demo.
Recommendation
The system works well! I'm impressed and wish I had the SlingBox a long time ago. Last winter I had trouble watching my beloved Packers during their Super Bowl run as they played the Philadelphia Eagles. If I had the SlingBox and the SlingPlayer app, I could have kept on driving instead of pulling off to watch it on a restaurant TV.
The solution isn't perfect. I hate when developers require you to pay twice for their iPad and iPhone apps instead of offering a universal app. If you have both, just pay for the one you will use most often. Since you have to pay twice, you should be able to watch on both apps at the same time.
As mentioned above, the setup might challenge less technologically savvy people since you might have to reconfigure your network router. Finally, you're at the mercy of your Internet connection for video quality.
If you have the cash, great Internet connections and the ability to forward ports on your network router (or have a friend/relative who can do it), then the SlingBox system rocks! If you want to use it in cheap hotels while on the road or other places where the Internet is slow, then you'll be disappointed.