Just a few months ago Google kicked off sales of the Nexus One over at Google.com/phone. A few days ago Google announced that it received its last shipment of Nexus Ones and now the device is officially sold out.
The Google Nexus One was a very appealing device and probably would've ended up with one if it'd actually been sold at the local T-Mobile store. Some geeks and developers might feel comfortable ordering phones sight unseen from Google, but why bother when there are several alternative Android devices at just about every phone retailer?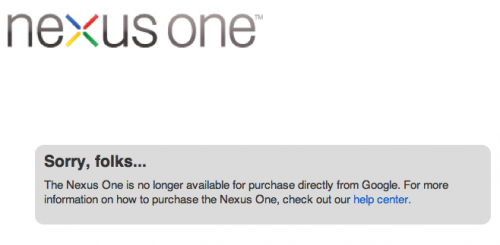 U.S. Android developers may be able to order from a Google partner in the future according Google. Those in Australia, France, Germany, Italy, Spain and the UK can buy a Nexus One from Vodaphone.
A quick scan of Craigslist SF shows there are plenty of new Nexus Ones available, but that may be because Google has given thousands of them away to customers, developers and trade show attendees this year.

This article may contain affiliate links. Click here for more details.