Softbank Leverages iPad Tablets to Foster Community Change
There is an old proverb that if you give a man a fish you'll feed him a day, but if you teach a man to fish he will be fed for life. In a pilot program, Japanese carrier Softbank, relatively unknown in the U.S. market and is also the parent of Sprint Corporation, is hoping to feed the world by empowering youths to foster change by using technology.
Softbank is currently sponsoring a summer program at the University of California, Berkeley where 100 high school students in and surrounding the tsunami afflicted area of Fukushima, also the site of the worst atomic accident since Chernobyl, get to learn about leadership and community.
As part of the program, students ages 16 through 18 from Iwate, Miyagi, and Fukushima, get to collaborate with academic luminaries in the field of urban planning as well as work alongside community leaders and the Mayor's office of the City of Berkeley to put what they learn into action. Softbank is also providing–in addition to transportation, room and board, and tuition–each student with an iPad tablet as their only computer for the summer.
At U.C. Berekeley, these students are learning about communication skills, public speaking, negotiations, components of urban planning, and interviewing techniques so that they can talk to business owners and residents to see how the important Telegraph Avenue business district can be revitalized. Students document what they learn on their iPad tablets. Then, they will have to map out their plans, and the final part of the learning process is evaluating the right solutions and presenting their ideas to the mayor of the city. Sotbank hopes that what these students will learn as part of their service project in Berkeley will also be applicable to their home communities, and that they will become an agent of change once they return to Japan.
READ: Teacher Hopes to Modernize Math Class With Chromebooks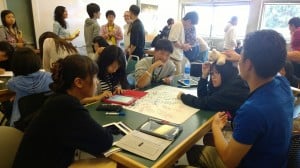 One student, Yui, told me that she is optimistic with the program and that she hopes to return home to help rebuild her community. Noting that while others in her area are just waiting for foreign assistance, she wants to be the one to assist and shape the future of her community after the disaster.
Prior to having arrived in Berkeley, Softbank representative Mariko Osada informed me that Softbank had led a workshop in Japan to show students how to effectively use the tablets to take notes, visually document what they see and are inspired by with the tablet's camera, and also to use the Keynote app to do their final presentation.
Softbank did not disclose any financial figures for the cost of using the tablet for this educational program, complete with the required apps, but it looks like the corporate investment in technology is a success given the high level of student engagement.
I had visited the students in the second week of their three-week stay in Berkeley and find that they demonstrated fluent use of the tablet while also being able to interact with each other professionally and personally, proving that technology and communications can go hand-in-hand and that the use of one does not impede on the other.
READ: Tablet 2.0: An Open Market for Education
Students had traveled around the Bay Area during the first week to document what they see–both the good and the bad–with the camera and used a note taking app to write their thoughts and reactions. In class, students shared their ideas in smaller groups and made presentations on their findings in front of a larger audience. Members of the Mayor's office also attended to provide early feedback and students will incorporate this feedback into their project when making the final presentation. In addition to the tablets, students also created other visual aids as well and storyboarded their ideas on large posters.
As an adult writing in the tech space, I often get caught up on what the latest devices and specs are, and Softbank's program reminded me that sometimes we need to slow down and look about the impact and use of technology in our lives and how technology is helping us to improve. By providing these future leaders with the right tools and technology, this program could become a role model for other U.S. schools and districts as they begin to implement technology in education, like Los Angeles Unified School District's recently announced $30 million program to equip students with iPad. Technology, education, practice, and real-world learning projects to solidify core concepts learned are all part of the success of Softbank's summer program.
READ: Google Play for Education Brings Apps to Educators
The real-world project along with the communications and leadership skills are all important components that so far have been absent in discussions for bringing technology to American classrooms. Thus far, the dialogue in the U.S. has centered around using technology for education's sake in the sterile vacuum of a classroom, but coming in as a corporate partner Softbank shows how we can evolve the use of technology so that it's more relevant and applicable to real-world settings. And perhaps that's also an important component of a technology-centric curriculum–to have a private-public collaboration such as the one that Softbank has enjoyed with these Japanese students.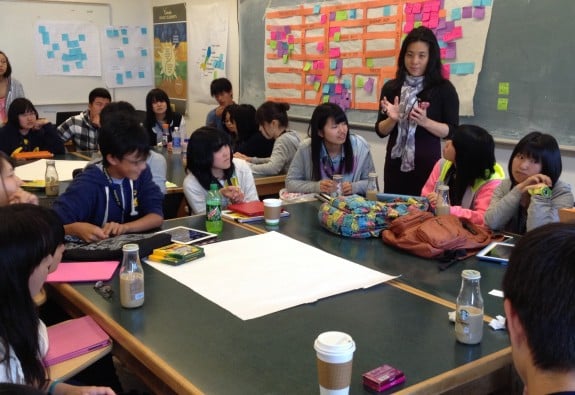 READ: News Corp's Amplify Edu Tablet
When asked why Softbank is sponsoring such an expensive educational program when the money could be spent on rebuilding the Tohoku region, Osada told me that Softbank is already making monetary contributions to help with the relief. However, Softbank doesn't just want to make a one-time donation, like many of the corporations in Japan, but it wants to make a lasting impact. Education and community leadership both contribute to that lasting impact for Fukushima.
The Berkeley campus was chosen not just because Sprint Corporation, formerly Sprint Nextel, is based in the U.S., but Softbank head Msayoshi Son is an alum of the university.