Software Update Time: Google Currents, Flipboard, FLUD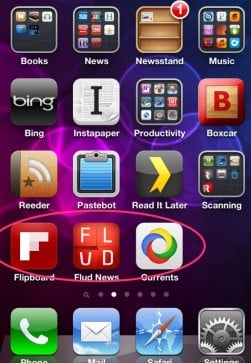 This week has seen several updates and some new software to what I call the "roll your own" magazine type software. Google released its multi-platform Google Currents, which is its answer to Flipboard (check out Chris's post about Google Current here.) Flipboard the reigning favorite (in my view and many others) released an iOS update that now allows iPhone users to have that App on both the iPhone and the iPad. And the makers of FLUD came up with update of their own. Word is that Zite (which fits in different ways into this category) is also due for an update imminently.
I have maintained that for some time Apps like these are what makes Tablets (and Smartphones) become the personal devices that we all want them to be. To a large extent they all are curation Apps, that allow you to pick and choose what you see when you use them for browsing. They all have links to social services for sharing and Flipboard, Google Currents and FLUD, they allow you to pull in feeds from Twitter and/or Facebook. You can pull RSS feeds in via Google Reader through all three.
While they all have similarities, they are not all the same and at the moment I find that Flipboard is still in the driver's seat. That's primarily because the UI for Flipboard allows me to pick and choose what I want to read from more sources easier and more efficiently. I also find that Flipboard makes the sharing a bit easier.
In my view Google Current's UI seems tedious and suffers from the same lack of design sense that many Google products have suffered from over the years. To be fair this is version 1, so hopefully we will see this change. Google has one good thing going in that Currents is for both Android and iOS and that will make life easier for those who go back and forth between platforms.
FLUD has made some decided improvements in 2.0. It looks great on both an iPhone or an iPad. But I have to scroll through the feeds that I have selected without a central home screen (or screens) to choose them from. This is a fundamental flaw here if you ask me, and yes, that view is as compared to Flipboard. I like to open Flipboard and take a quick glance at several feeds or categories. Something will catch my eye and I'll go to that feed or category to begin my reading. With FLUD I have to manually swipe from feed to feed to see what's up. Yeah, I know that FLUD opens up with a "most Fludded" screen, but frankly I'm not one who likes "trending or most shared" kinds of information. I'd rather do the discovery on my own, which I think is kind of the point for these kinds of Apps.
Or is it? Keep in mind that a part of the strategy for each of these Apps and the content it brings to you has to do with that big old familiar holy grail of Web 2.0 (are we still in Web 2.0?) advertising. Placement also plays a part. On the one hand the makers of all of these Apps want to be able to advertise to you in some way shape or form and sell what they info they gather about your reading habits. In fact they are already learning from you simply by the content you choose to read on a daily basis when you populate the Apps with feeds of your choice. On the other hand including the same "recommended" feeds across all of the Apps seems ultimately self defeating, but I'm sure there's a business strategy there to get some money from the sites that get that kind of placement.
Flipboard saw its competition coming and got smart with its latest release strategy. Prior to the most recent update it allowed you to create an account. The result is that the content you curate on one device can be the same on another. Everyone knew Google would work this way. FLUD does the same. But where Flipboard rules is in the UI and the UX. The iPhone version is actually fun to use and even though the screen real estate is much smaller than the iPad, I can get to more content more quickly on the iPhone than I can with Currents or FLUD. I've said this before, Flipboard feels like it is native to the iPad with how easy it works on that device. FLUD and Currents feel like Apps that I have to learn.
While at the moment I prefer Flipboard, I'm looking forward to an ongoing comparison with FLUD and Google Currents over the next several weeks. My preferences may not be yours and certainly if you're both an Android and an iOS user, Google Currents is a serious contender in this space. What's always telling to me is the Apps I just naturally gravitate to, as opposed to the ones that eventually fade away. Those I use all the time make it to my home screen or the Springboard. I'm certainly not there yet with these Apps, but I'm anxious to see how they compete for my browsing appetites.

As an Amazon Associate I earn from qualifying purchases.