Some Variants of Google Nexus S to Use Super LCD Screens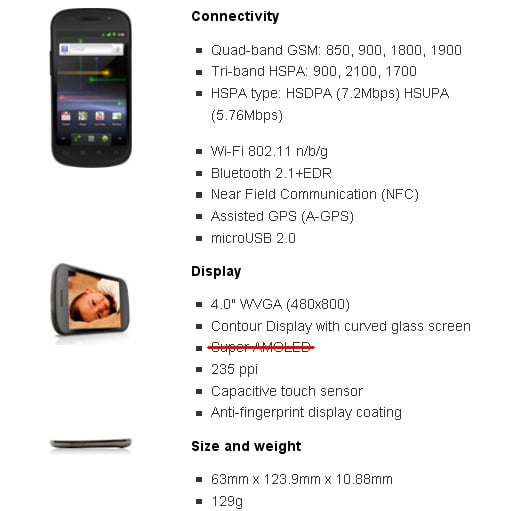 There are reports that certain variations of the Nexus S made for specific countries will utilize a Super LCD screen. The handset was originally slated for a Super AMOLED display, much like those found on the popular Galaxy S smartphones by Samsung, but it looks like Google and Samsung are experiencing shortages of the crisp Super AMOLED panels forcing Google to offer the Russian variant of the Nexus S to utilize an alternative screen technology.
Currently, the official Google Nexus S page shows that the smartphone, at least for the U.S. and UK, will utilize a contoured Super AMOLED display.
A wave of AMOLED shortages had occurred in 2010 forcing some manufacturers to switch from AMOLED displays to competing LCD or Super LCD screens. For its part, manufacturer HTC had switched some of its products mid-cycle from an AMOLED display to Sony's Super LCD screen panel, including handsets like the HTC Desire (Android) and the U.S. based Verizon Wireless HTC Droid Incredible. HTC says that Super LCD offers comparable performance to AMOLED.
A move to Super LCD screen may be beneficial to those who read more text on their smartphones. In my experience, while Super AMOLED and AMOLED screens offer great video and graphics performance with color saturation that may be on the over-saturated levels, text does appear more pixelated on AMOLED-based displays than on LCD- and LED-based screens based on the arrangements of the pixels of AMOLED displays.
Additionally, the concern that LCD-based screens may draw more power than AMOLED screens is not entirely warranted. AMOLED screens are more power efficient where there is a black background or with large patches of blacks on the screen, but when reading text–which usually is black text on a white background–AMOLED screens can draw more power. The reason is that AMOLED only draws power when there is color or white on the screen as the black pixels are not turned on or lit up. With readers browsing websites and reading text-oriented documents and pages, such as email, power draw will increase as those tend to display dark text on white backgrounds.
Also, LCD-based screens may offer more realistic color saturation and may be better under certain conditions, such as under direct sunlight.
Via: Unwired View