Sony Bringing Triluminos Display Tech From 4K UHD TV to Xperia Phones
After having brought over its Bravia technology from its current HDTV television sets, Sony is now looking at bringing the more advanced Triluminos innovation that is used on its 4K UHD TV displays to future Xperia smartphones. This would allow Sony to offer a compelling mobile display to compete against HTC's highly regarded use of Super LCD screen technology on its smartphones, Samsung's innovations on Super AMOLED, and Nokia's ClearBlack display technology for AMOLED and LCD screens.
Triluminos is a display backlight technology that uses a nanocrystal quantum dot technology. This allows for a wider palette of colors, leading to displays that offer a higher dynamic range, as well as more vivid and true-to-life colors.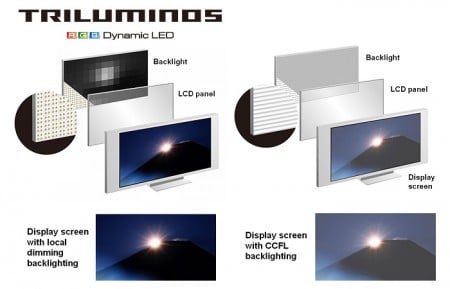 The technology currently is found on Sony's 4K Ultra HD television sets and Sony Philippines has let it slip that the technology will be coming to future Xperia smartphones.
It's still unclear how far out Triluminos will be away from Xperia phones, but it's great news for discerning mobile users who are caught up in the display war between Retina Display, SLCD, and Super AMOLED. Techpinas reports:
During the interview, the heads of Sony Philippines likewise confirmed that Triluminos display will definitely come to the Sony Xperia smartphone line. This is cool because, as of writing, Sony is still using TFT panel even in its top of the line handset releases, including Sony Xperia Z. Triluminos will be the Japanese company's answer to display technologies being offered by other companies like Retina Display and SuperAMOLED.
There are rumors that Triluminos may appear on the rumored 5-inch Xperia phablet that will debut this fall with a 20-megapixel camera, dedicated audio amplifier chip, and Xenon flash as well as Carl Zeiss optics. That device could debut as early as July in China and globally in the fall according to the latest rumors.

As an Amazon Associate I earn from qualifying purchases.