Sony Feeling the 'Fire,' Drops Tablet S Pricing By $100
Sony's Playstation-certified Tablet S is now seeing a price cut for both the 16 GB and 32 GB versions. Both versions will get $100 knocked off, bringing the price down to $400 and $500 respectively. It's unclear if this is the move represents Sony's plans to introduce a successor model or if the company is forecasting more competition since it entered the tablet arena late summer.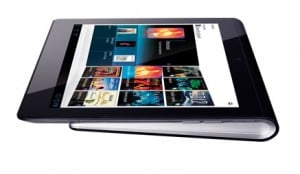 Since Sony's Tablet S model was introduced this past summer, we've seen a number of low-cost options hit the market. Among the most notable low cost options are Barnes & Noble's Nook Tablet ($250) and Amazon's Kindle Fire ($200). The Tablet S's entry price point now matches the price for Acer's Iconia Tab A500 and Asus' Transformer when those devices initially entered the market.
Though the Tablet S is a solid entry into the consumer Android tablet space for Sony, the company is experiencing a lot of competition and the price drop may be a response to Sony not being able to place in the top five for tablets.
Sony had announced that its Tablet S and dual-screen Tablet P models will be receiving an upgrade to Android 4.0 Ice Cream Sandwich.
Via: Electronista

As an Amazon Associate I earn from qualifying purchases.