Sony Introduces VAIO Duo 11 Windows 8 Convertible Starting at $1099
Sony's first Windows 8 convertible, the VAIO Duo 11, is coming to market later this month starting at $1099.
The Duo 11 is Sony's take on the convertible tablet, but unlike other convertibles this is a tablet first and a laptop second.
The Duo 11 features an 11-inch Full HD display that slides up to reveal a full keyboard. The Duo 11 lacks a trackpad, pushing users to use an optical sensor in the middle of the keyboard and two buttons below the spacebar or the touch screen.
Users who don't want to use the keyboard can also write on the tablet using the included pressure-sensitive stylus. The stylus works with Sony's Note Anytime app so users have a place to take handwritten notes. The stylus also helps users crop photos with Sony's Active Clip app which makes it easy to cut elements out of photos.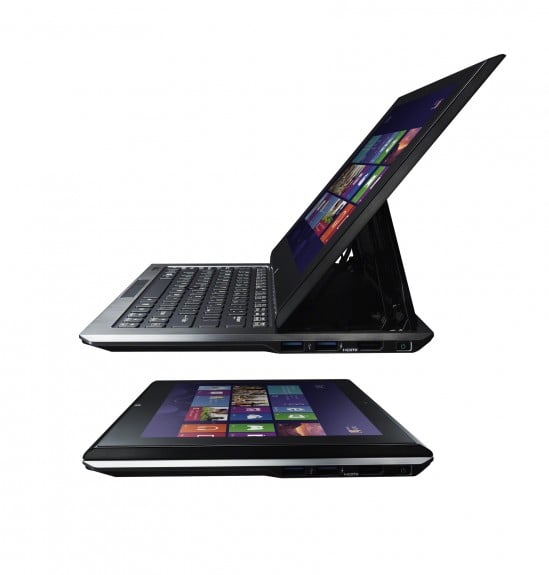 Sony's Duo 11 uses the latest Intel Core i processors starting with the Core i3 in the base model up to the Core i7. The convertible starts with 128GB of SSD storage and 4GB of RAM, and is configurable up to 256GB of SSD storage and 8GB of RAM.
The keyboard on the Duo 11 is backlit for users who want to type long pieces in the dark.
Sony also offers a special Sheet Battery for the Duo 11 in case the device's battery doesn't last long enough. Sony hasn't detailed the battery life of the device or the sheet battery.
In addition to the Duo 11 Sony also revamped its T, E, and S line Ultrabooks and laptops for Windows 8. The T line starts at $669, the E series starts at $449, and the S series starts at $799.
All of Sony's new devices will go on sale online and in stores at the end of October.

As an Amazon Associate I earn from qualifying purchases.