Sony Music Unlimited Comes To iPhone
Sony is bringing its music streaming service to the iPhone, giving users yet another alternative to Spotify, Rdio, and MOG.
According to 9To5Mac, the Sony Music Unlimited iPhone app is currently available in the New Zealand App Store, and will likely hit the U.S. App Store shortly. Like other music streaming services, Sony Music Unlimited offers unlimited streaming music for a small fee every month.
Sony has two pricing tiers for Music Unlimited, both of which offer mobile streaming. The Basic plan costs $3.99 per month. That plan offers access to the user's personal library as well as a collection of music channels that Sony sorts by genre, mood, era, and other categories.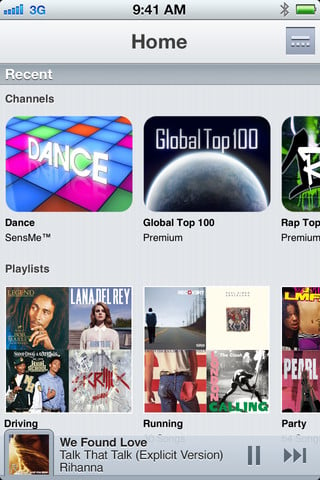 The Premium Music Unlimited plan costs $9.99 per month, the same as Spotify. Like Spotify, the premium plan gives users access to any song or album in the Music Unlimited catalog, and lets them add those songs and albums to their collection. Premium subscribers also get access to new releases every week and "Premium Channels." Also like Spotify, Premium subscribers can sync their music for offline listening.
Sony offers a free 30 day trial to Music Unlimited for new users. The service will also work on a PC and almost any Sony product that plugs into a HDTV. That includes the PlayStation 3 and other Sony Blu-ray players, as well as the PlayStation Vita.
Sadly Sony didn't create an iPad app, so iPad users have to deal with the iPhone app. That isn't so bad when the app is pixel-doubled on the new iPad, but it'd be nice to see an iPad app like the recent Spotify one.

As an Amazon Associate I earn from qualifying purchases.