Sony's Outdoor Portable Party Speaker Packs Beer Cup Holders & Bass
Sony announced a slew of new products and speakers at the Consumer Electronics Show (CES) in Las Vegas, and perhaps the weirdest yet coolest one is the new GTK-PG10 outdoor party speaker.
This $250 outdoor speaker does a little of everything, and that includes packing four cup holders perfectly sized to fit solo cups full of beer, soda, or even some Gatorade. It's an unassuming cube-shaped Bluetooth speaker at first glance, but fold open the top and you'll quickly get the party started.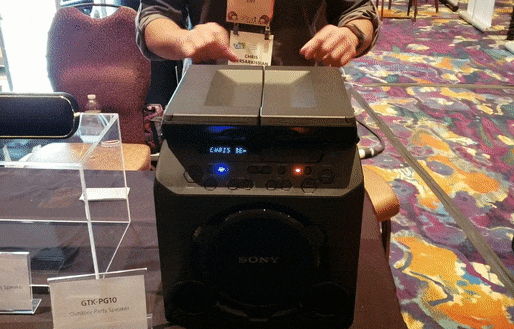 Out of the box, the speaker has a tall cube shape with a massive speaker in the front center and two bass reflex vents for high-end sound. Then, up top, you'll notice tons of controls and two downward firing tweeters for better highs and vocals. There are built-in handles, and Sony even added a speaker mount on the bottom if you want to elevate a few around the yard.
However, the fun starts when you fold the two panels at the top of the speaker open. For one, the built-in tweeters now face upwards and outwards, delivering a better and wider sound for the entire party. Plus, the splash-proof and textured top has four built-in cup holders. Perfect for beer pong.
This thing is perfect for any party. Sony says the built-in DPS (digital signal processor) "automatically adapts audio settings to optimize outdoor performance" which is nice. Plus, you have a ton of other options and 13-hours of battery life to keep the party going all night long.
Sony confirmed that the GTK-PG10 outdoor speaker has an FM radio inside, but you're also getting Bluetooth, a wired USB connection, AUX, Mic Echo, Mega Bass, and an onboard XLR mic input, should someone want to sing karaoke and end the party early.
The small display shows the source, FM stations for tuning, or artist information depending on the source of the music, and there are several other soft-touch buttons to control anything and everything this party-boy speaker has to offer. The full-size USB port will even recharge your phone in a pinch.
You can get the party started with Sony's outdoor portable speaker this spring for $249.