Sony S1 Tablet Now Known as Sony Tablet S, Coming 1st Half September
Sony's large single-screen skinned Android Honeycomb S1 tablet will debut in the market in the first half of next month as the Sony Tablet S under its retail moniker. The tablet will come skinned with Sony's user interface on top of Android Honeycomb 3.1, and will also come pre-bundled with access to Sony content for consumption, including the Reader Store for e-book purchases, Music Unlimited, and Video Unlimited.
Though the device will launch with Android Honeycomb, Sony is looking at upgrading the tablet to Android Ice Cream Sandwich when the next-generation OS is available.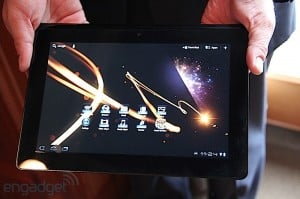 The device will feature a 9.4-inch IPS LCD capacitive touchscreen display that measures 1280 X 768 pixels, which would be a bit narrower on the height when held in landscape mode when compared to Motorola's 10.1-inch 1280 X 800 pixel Xoom. The device will sport a dual-core ARM-based CPU from NVIDIA known as the Tegra 2, like the Xoom.
The tablet's a gaming certified tablet that's gotten the Playstation Certification, and will be centered around the user's digital home with an IR blaster to control nearby devices (like a TV) via infrared, as well as DLNA for wirelessly sharing content. It also has support for a USB host dongle, and supports dual cameras.
At this point, pricing is still an unknown factor.
Via: Engadget