Sony SmartWatch Lands in U.S. for $149
The Sony SmartWatch, that was first introduced back at CES 2012, has finally landed on shelves in the United States with a $149 price tag attached to it.
The SmartWatch is a companion device in that it requires a connection via Bluetooth to an Android phone in order to fully take advantage of its capabilities.
This lack of internal memory is where the device differs from other smart watches on the market like the MOTOACTV.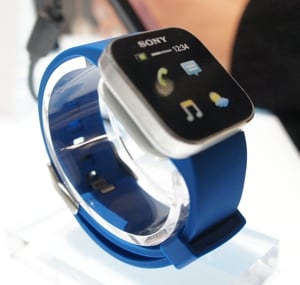 When connected to a companion device however, the Sony SmartWatch offers up a bevy of functions such as the ability to pull in information from over a dozen apps including email, SMS, Twitter, Facebook.
For SMS, the watch allows users to pre-program a response to send to friends or family who call so that the user doesn't have to pull out a phone in order to respond.
Users are also able to start phone calls right from the watch.
The smart watch is also able to control music and bring up the camera feature on an Android smartphone, provided its running a version of Android that is Android 2.0 or above.
Sony's SmartWatch can be seen in action in the video below:
Read: 5 Smart Watches: Smartphone Connectivity On Your Wrist.
The device measures around 1.75 inches square and it has a great build quality meaning it won't feel cheap on the wrist.
The watch will be available through the Sony Store first and then it will arrive in other retail outlets as time goes on.

As an Amazon Associate I earn from qualifying purchases.