Sony Tablet P Ice Cream Sandwich Update Begins to Roll Out
The Sony Tablet P Ice Cream Sandwich update has arrived.
Sony has announced that the Sony Tablet P has joined the Sony Tablet S on Android 4.0 Ice Cream Sandwich and that the update is currently rolling out to "select markets." The company has not elaborated on where those "select markets" are, which means Tablet P owners should take a look at the tablet right now to see if any software has arrived.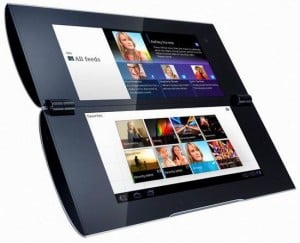 The software, should it be available, will be found in device's Settings. Head there and check for updates and who knows, Android 4.0.3 Ice Cream Sandwich might be waiting there for consumption.
Sony has detailed a few of the additions that will be coming with the software and those include:
Streamlined user interface with drag-and-drop folder creation.
Improved multi-tasking and browser.
Direct access to SD card.
"Small Apps" and enhanced photo viewing options.
So, not a bad haul and definitely an improvement over the device's original operating system, Android 3.0 Honeycomb which has been lingering on the tablet.
The Sony Tablet P has two 1024×480 displays, and it folds up for easy storage. It's powered by a Tegra 2 CPU, but has only 4GB of internal storage.
It also is PlayStation Certified, one of the few tablets with that honor, which means it can run select PlayStation titles. Its dual-screens also allow the device to run some apps in a split-view mode. Most applications will run across both screens however.
In any event, it's nice to see that Sony is still working hard at updating its Android devices to Android 4.0 Ice Cream Sandwich.