Sony Teases S1, S2 Android Tablets in First of Five Part Video Series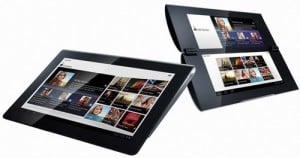 Sony has debuted a teaser video teasing two of its forthcoming Android tablets, the single-screen S1 tablet and the dual-screen S2 model. The video, which is set to a real-life version of pinball, shows glimpses of both tablets as a pinball activates a train that goes through a cityscape casted from the shadows of household objects like clothespins, nail polish bottles, and miniature perfume containers.
At the end of the first video, we see both the dual-screen and single-screen tablets. However, while the S1 single-screen model is shown clearly, the clamshell position of the S2 dual-screen doesn't reveal that it's a tablet with two screens at first glimpse. Hopefully, future videos in the Sony tease series will showcase the S2 in greater detail.
Both the S1 and S2 tablets were recently seen getting regulatory approval in the U.S. at the FCC with radio support for AT&T-compatible 3G/4G bands. The devices are rumored to be launching in September in Europe.