Sony Working On A Quad-Core Android 4.0 Tablet?
It's apparently benchmark day here in the tech world as earlier today, benchmarks for the new (and mediocre looking) Droid Incredible 4G surfaced and now, we have some benchmarks for what appears to be a Tegra 3 quad-core tablet, running Android 4.0 Ice Cream Sandwich, made by Sony. The device is apparently running Android 4.0.3 and packs the same screen resolution as Sony's Tablet S.
So what that means is that the device has a 1280 x 800 screen resolution.
It's unclear what the tablet contains beyond the software, the quad-core processor and the screen resolution though as details surrounding it remain murky at best.
It does have a name though and it appears that it's the Sony V150. Clearly, this is not going to be the name of the device when and if it hits shelves, but it's a name to keep in mind for the future nonetheless.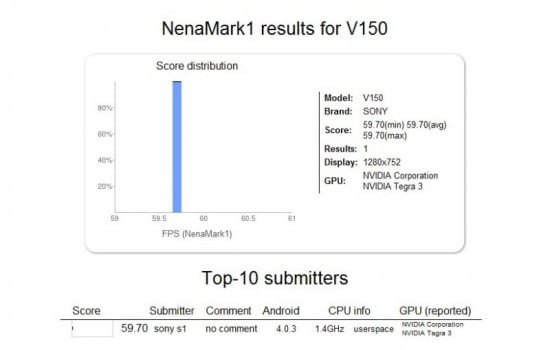 Sony hasn't exactly taken the tablet market by storm. Both the Sony Tablet S and the Tablet P have failed to make any sort of dent into iPad sales and they likely now going to be even more forgotten as Apple has just released another iPad, dubbed iPad, which has already seen strong sales.
Both devices also run an older version of Android and not Android 4.0 Ice Cream Sandwich.
Sony is going to have to do something that separates this tablet from the pack. Amazon's Kindle Fire has the price and the tied-in Amazon features going for it.
The iPad has a great app store and a ridiculous high-resolution screen.
Asus' Transformer tablets have great support and high-end specifications.
Sony?
It's tablet will apparently have a quad-core processor and Android 4.0.
And there won't be too many of those that come out this year.
That's called sarcasm.
We're rooting for Sony but it's going to have to do better than what it did with the Tablet P and Tablet S.
Via: NetbookNews