Sony $149 Xperia Smartwatch Misses The Mark — Hands-On, Video
The first time I walked through Sony's massive CES booth I almost missed the Xperia Smartwatch. Shoved in between the new Xperia Ion smartphones this little gadget is a hidden gem.
When I first played with it I fell a bit in love. But after spending more hands-on time with it I'm ready to declare it a typical Sony product: great idea, good build quality, and functionality that misses the mark by an inch.
The Xperia Smartwatch is the descendant of the Sony Ericsson LiveView, a proto-smartwatch that delivered information from an Android phone to a tiny display. This model is similar, though it offers a lot more functionality and information. It's a bit bigger as well, measuring around 1.75 inches square.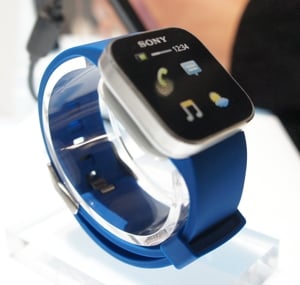 It's still dependent on connection to an Android phone via Bluetooth for all of its functionality, and that's where the missing the mark bit comes in. Unlike the MotoACTV or even the iPod nano, the Xperia Smartwatch has no memory of its own. It can't play music by itself, it simply controls music streamed from your phone. Though it runs some flavor of Android, it's little more than a dumb terminal.
The watchface doesn't stay on, so each time you want to check the time you have to press the button on the side. That could get old quick.
The news isn't all bad. I like that the Xperia can pull in information from over a dozen apps including email, SMS, Twitter, Facebook, weather and more. Swiping between apps is smooth and there are some easy to remember gestures for switching between the list of apps widgets, and messages.
I particularly like that users can pre-program a standard SMS response to send to people who call or text so you don't have to pull out your phone to respond. Users can also initiate calls from the Xperia.
See what I mean about missing the mark by an inch? Sony often does this — deliver products that are 80% awesome and 20% blah.
The Xperia Smartwatch will cost $149 when it hits store shelves at the end of March.

This article may contain affiliate links. Click here for more details.