Sony Xperia Z Ultra Announced with 6.4-Inch Display & Stylus
The new Sony Xperia Z Ultra will do more than just take on the likes of Samsung's Galaxy Note line of tablets, it'll blur the line between smartphones and tablets even further.
The device, which made its debut just this morning, boasts a 6.4" inch display that uses the Triluminos display technology the company first showed off earlier this year during the Consumer Electronics Show. It's that same technology that's included in the company's line of next generation 4K televisions.
By comparison, the Samsung Galaxy Note 2 has a 5.5" inch display.
At the heart of the device is a 2.2 GHZ quad-core Snapdragon processor though the company isn't talking about how much RAM or how much onboard storage will be included in the device just yet. The rear of the aluminum of the waterproof and grit resistant device features an 8 megapixel camera with a "Exmor RS for mobile" branded sensor. Users will be able to actually use that camera to film in HD video underwater as well as on land.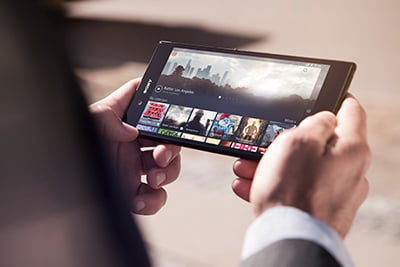 Anything bold enough to attempt to compete with a possible Galaxy Note 3 must have a stylus for jotting down notes or navigating its user interface. Sony has included one with the Xperia Z Ultra, though its screen can use the capacitive stylus like the S Pen that's included with the Galaxy Note 2 or any metal pen with a tip that's over 1MM around.
The Xperia Z Ultra will include 4G LTE support for connecting to today's fast data networks like the ones each mobile carrier in the United States are already building out.
Also like Samsung, Sony seems to be determined to offer users the complete experience in hardware and software. Sony will include a large amount of applications to connect to the company's range of services like the Sony Reader book service, the WALKMAN media hub for finding music and video and the Sony Video Unlimited subscription service. Users will also be able to sign up for a free trial of the company's Sony Music Unlimited music service as well.
It'll be able to connect with what Sony calls "a complete lineup of accessories" like the Magnetic Charging Dock the company introduced today, and the new SmartWatch 2 wearable accessory using the NFC and Bluetooth support that's built into the device.
All told, the Xperia Z Ultra seems to be another iteration on the popular Xperia Z handset that GottaBeMobile awarded Best Smartphone of CES 2013.
Users can expect to see the Sony Xperia Z launch sometime in the third quarter of this year. That's sometime between July and September.