Sony's 2012 Smartphone Roadmap Leaks Out
Every year we see a few smartphone roadmap leaks that give us a glimpse at what we might see a company release in the days, weeks and months ahead. Today, we have what we believe is our first roadmap leak which comes from Sony and reveals that the company has at least 11 unnamed smartphones in the pipeline for this year.
Keep in mind, there are no guarantees here so take the release dates and pricing that you see here with a grain of salt. That being said, what you see is a list of codenamed devices that will apparently become branded smartphones down the line.
Nothing is known about the devices, other then the fact that they are all running Android.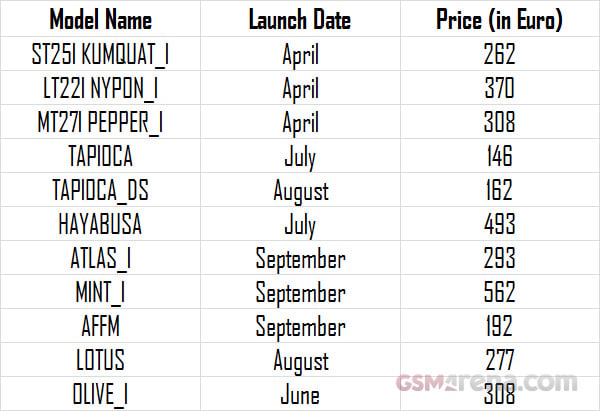 So we have:
Kumquat
Nypon
Pepper
Tapioca
Tapioca_DS
Hayabusa
Atlas
Mint
Affm
Lotus
Olive
These are code-names and will probably not be the names that the devices launch under when they do finally make it to market.
Judging by some of these launch dates, we should see Sony make a bit of a splash at the Mobile World Congress which is set to take place next month in Barcelona. And those prices seem to point to a couple of high-end devices being in the mix as well.
Sony was already pretty busy at CES with the announcements of the Sony Xperia S aka Nozomi and the Sony Xperia Ion, so it will be interesting to see what they have on tap for us in the months ahead.
Via: GSMArena