Spec Showdown: Droid Bionic vs Atrix 4G vs Photon 4G
So you're looking to get a new Motorola phone that runs on one of the various 4G networks in the United States. While weighing your options,  you may have stumbled upon a trio of well known devices.
The first, the still unannounced but very real 4G LTE enabled Motorola Droid Bionic on Verizon. A second, the recently released WiMax 4G powered world phone, the Motorola Photon 4G for Sprint. And third, you've probably seen the dual-core, HSPA+ 4G equipped Motorola Atrix 4G on AT&T.
And while you may have been doing some research, sometimes it gets tricky, especially when the specs for the phones are on tons of different tabs in your browser. Well, I like making your smartphone decisions easier and that's exactly what I am hoping this image from Droid-Life does.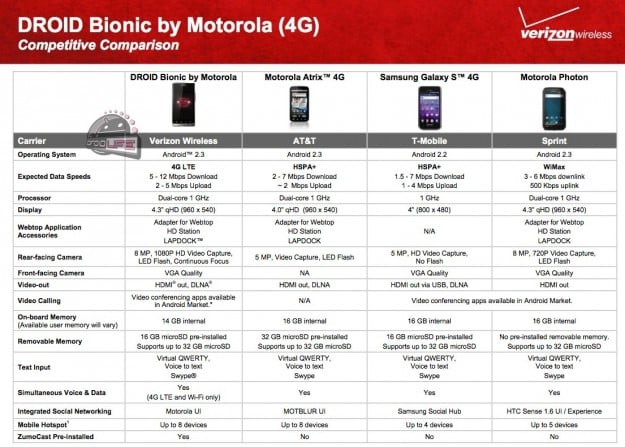 What you see here is a spec comparison sheet between the Droid Bionic, the Atrix 4G, the Photon 4G, and T-Mobile Samsung Galaxy S 4G which doesn't really deserve to be a part of the discussion.
No offense.
The chart also gives us a rundown of the Droid Bionic's specs, if you hadn't seen them already. 4.3-inch qHD screen, 16MB pre-installed microSD card. mobile hotspot. and more. What's curious is that it lists 14GB of on board storage space which, is to say the least, a little odd. As is the listing of HTC Sense 1.6 for the Photon 4G.
So, what do you guys think? Droid Bionic win this showdown?

As an Amazon Associate I earn from qualifying purchases.