Specs for Rumored Facebook Phone Emerges
In the past, there has been a lot of rumors that Facebook is planning an entry into the mobile space with hardware partner HTC to build its phones, though the company has repeatedly denied that it is in fact working on its own phone or mobile operating system to compete against the likes of Apple's iOS, Google's Android, Microsoft's Windows Phone, or RIM's BlackBerry OS.
However, it looks like some highly reliable sources to blog Pocket-lint are saying that Facebook is in fact developing its own software-hardware platform in conjunction with HTC and those same sources are even releasing some of the specs, or hardware features, of the Facebook-made smartphone.
A mobile strategy, however, would help Facebook control the user experience on smartphones and other mobile platforms without relying on partners to do the work.
The phone is said to be called the HTC Opera UL and is said to be an OEM product from HTC, meaning a product that HTC is building that will be re-branded by another partner.
And, so we were left in no doubt, they added: "It is the Facebook phone, made for Facebook."
Now, before we get our hopes up, those sources say that the phone has been delayed. It was previously rumored that a Facebook phone would arrive sometime in 2013, so it's unclear if the delay will push the phone back to later 2013, or if Facebook is postponing the launch indefinitely. In the past, CEO Mark Zuckerberg says that a self-branded phone doesn't make sense for the company, suggesting that it doesn't want to endanger its relationship with Apple, Android, Microsoft, and BlackBerry.
However, leaked specs suggest otherwise and the HTC Opera UL is said to have a 720p HD display, a 1.4 GHz processor that's likely a dual-core CPU, Adreno 305 graphics that suggest the CPU to be a Snapdragon processor, and will operate on Android 4.1.1 Jelly Bean.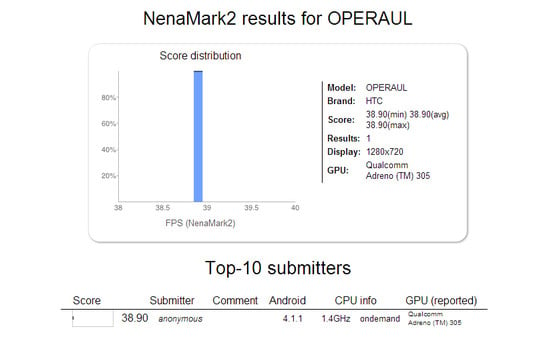 At this point, it's unclear how fragmented this Android ecosystem will be. Facebook will likely go the Amazon route and highly skin the Android OS and offer its own unique user experience so that Google's OS is hidden underneath the skin.
At this point, it's just a game of wait and see before Facebook makes an official announcement on the project.