Spotify Brings Free Streaming Radio to Android
Spotify recently brought a free radio streaming option to iOS users, and today it brings the same feature to Android devices.
Starting today Spotify users on Android can create radio stations based on songs, artists, albums, or playlists. The new feature is available to any Spotify user, whether they pay for the service or not. All users get unlimited skips in each radio station, however free users have to deal with breaks in their music for ads.
Like the iOS app, the radio feature in the Android app lets users give users a thumbs-up or thumbs-down to rate each song. Spotify saves songs that users like to a playlist so they can listen to them again later. The downside for free users is they can't listen to the playlist of songs they liked on the mobile app. Although, they can use the playlist to create a new radio station.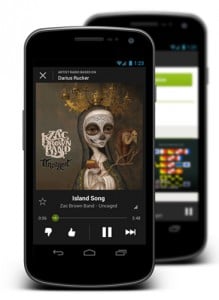 The Spotify radio feature learns from the user as they like and dislike songs that come across the stations, just like Pandora.
Strangely, while the new radio feature is available on both the iPhone and Android, it still hasn't come to the desktop app. The desktop app does have a radio option, but it doesn't have the option to like or dislike songs, only the option to star songs.
We'd like to see the same feature come to every Spotify app, as it seems like a great way to discover new music. Music discovery is a tough thing to do right, and this radio feature seems like the best way to sort through the massive Spotify library so far.
We just wish we could use the same features on our smartphones and laptops.