Spotify for Android Beta Is A Much Needed Update
Spotify is a great music streaming service, but its mobile apps were never very good. The Android app, in particular, needed a lot of work.
Spotify has finally released an update for Spotify for Android as a beta.
Spotify announced the new Spotify for Android beta isn't available in the Google Play Store yet, but is available for download through its website. The new version is the first update to the app since November 2011. Coincidentally, the new Spotify beta app now supports Android 4.0 Ice Cream Sandwich, which also launched in November 2011.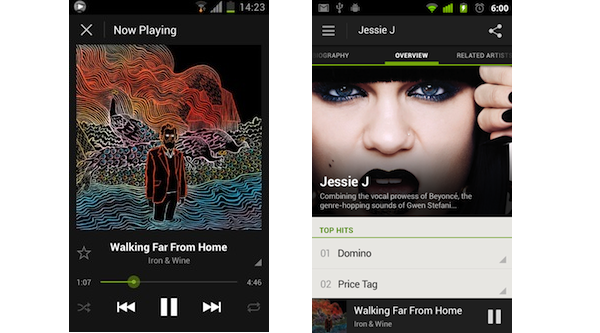 According to Spotify the new app received a top-to-bottom redesign,  which includes a new "slide out navigation." The new design uses Google's "Holo" theme that's built into ICS, which looks a lot nicer than the version currently available in the Google Play Store.
The app also includes "Extreme" sound quality which means 320kbps streaming music files. "Extreme" sound quality uses more data than low and high quality, but is the closest to audiophile-level sound the service can produce.
The Spotify beta app even has the Related Artist view, which hasn't appeared on any other Spotify mobile app until now. It's a small feature, but a nice one for finding new artists that are similar to ones you already like.
Finally, the app also has new social features, which means you can view your friends' profiles and playlists on the go.
Spotify still has a lot to add to the app before it's released into the Google Play Store. Spotify wants to add folders and Last FM scrobbling, among other features before the app launches in the store. Until then, you can download the app from Spotify's website, and install it on your device. Just be sure that you enable apps from "Unknown Sources" on your phone first.
Of course, the new app still requires a $9.99 per month subscription fee.
Now that Spotify has a new Android app almost ready, maybe we can get that iPad app soon. The streaming music service still needs a proper tablet app that isn't just a blown-up version of the smartphone app.