Sprint Announces Motorola XPRT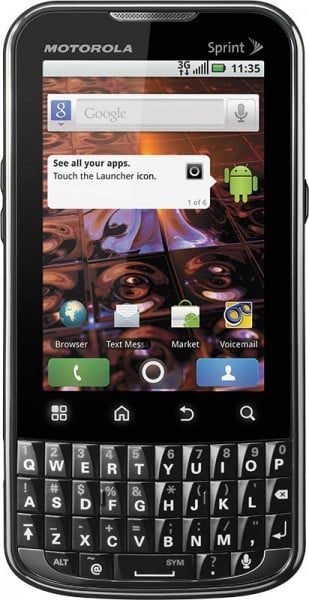 The Motorola XPRT is an enterprise-focused Android smartphone aimed at luring BlackBerry owners to the more consumer-centric mobile operating system. The device will be compatible on Sprint's 3G CDMA/EV-DO network and is similar to the Verizon Wireless Motorola Droid Pro or the global GSM Motorola Pro handsets, which features a 3.1-inch touchscreen and a BlackBerry-style front-facing keyboard.
The keyboard on the XPRT is similar to that on the BlackBerry Bold line, which features contiguous, rather than island-style, key arrangement. The keys have beveled edges to aid in typing ease and accuracy.
Additionally, to make the phone more attractive to IT manager by adding software security enhancements on top of Android 2.2, which features support also for Adobe Flash 10.
The device features a single-core 1 GHz processor and a 3.1-inch HVGA display. The handset is slated to arrive on Sunday, June 5, on Sprint's network for $130 with a two-year agreement.
Press release:
Motorola XPRT
Android platform versatility with enterprise-grade security
Built on Android™ 2.2 (Froyo), Motorola XPRT™ is the first Android world phone from Sprint with a high-resolution 3.1-inch HVGA display, full QWERTY keyboard and a 1GHz processor for tackling the demandsof today's business environment. Enterprise managers and workforces across a variety of industries,including field service, field sales, healthcare, retail, utilities, manufacturing and transportation/distributionwill benefit from its feature-rich capabilities, enterprise-class security and data encryption. MotorolaXPRT also offers the latest version of Motorola's MOTOBLUR™ technology offering personalized content,including email and social media updates, delivered right to the user's home screen. It also enables theuser to view and respond to news feeds, updates and messages without the need to separately accesssocial media sites.
ADVANCED FEATURES:•Google mobile services such as Google Search™, Gmail™, Google Maps™ withNavigation, syncing with Google Calendar™, Google Talk™, Voice Actions andYouTube™•Corporate email (Microsoft Exchange ActiveSync®) and personal (POP & IMAP) email•Worldmode – CDMA (EVDO Rev. A), GSM/UMTS (HSPA) – international roamingservice available in more than 200 countries•3G Mobile Hotspot capability, supporting up to five Wi-Fi enabled devicessimultaneously•Quickoffice – Quickword, Quicksheet, Quickpoint, and QuickPDF files•Device encryption, multi-headed VPN, EAS security policy support, including deviceand SD card wipe, out of the box
ENTERTAINMENT•Android Market™ for access to more than 150,000 applications, widgets and gamesavailable for download to customize the experience•5-megapixel camera with camcorder and dual LED flash for low-light performance•Adobe® Flash® 10 Player to surf the web and freely access and enjoy inline videos,interactive web apps and games•microSD slot, with 2GB memory card included, supporting up to 32GB•Bluetooth® 2.1 + EDR1•Wi-Fi® b/g/n•Integrated GPS
SPECIFICATIONS:•Dimensions: 2.4 inches x 4.74 inches x 0.51 inches (60.9mm x 120.4mm x 12.95mm)•Weight: 5.1 ounces (145 grams)•Display: 3.1-inch HVGA 320×480 TFT touchscreen with pinch-to-zoom•2GB ROM/512MB RAM/microSD slot with 2GB microSD card included and supporting up to 32GB memory card•Battery Specifications: 1860 mAh Lithium-ion battery•Talktime: up to 9 hours2

As an Amazon Associate I earn from qualifying purchases.