Sprint Black Friday 2015 Deals
This year looks to be another exciting year for Black Friday shoppers, and earlier today Sprint confirmed its plans to offer some extremely impressive Black Friday 2015 deals. Millions of people wait all year for Black Friday, then use it to make huge purchases. If you happen to be a Sprint customer, a year of Amazon Prime and a free HDTV could be yours this year.
Black Friday is always one of the craziest times of the year, especially for Best Buy, Walmart, and other big stores, but this year carriers are getting in on the action like never before. Verizon has plenty of good deals, and Sprint made some changes in an effort to get shoppers in its stores as well. Below are all the details on Sprint's exciting Black Friday 2015 deals.
Read: Best Black Friday 2015 Deals & Ads
Not only will buyers be able to get popular smartphones like the Samsung Galaxy S6 for half-off with a lease program, but Amazon Prime and free HDTV's are a part of this years crazy holiday. Here's what you need to know.
Sprint is aiming to get more customers than ever before by offering some very enticing deals for Black Friday 2015. Those who opt to get a new smartphone from Sprint will get some huge savings. In fact, for Black Friday 2015 Sprint is offering a year of Amazon Prime absolutely free with the purchase of the Samsung Galaxy S6, Galaxy S6 Edge, Galaxy Note 5, or Galaxy S6 Edge Plus. That's a $79 value.
At the same time, Sprint will be selling the Galaxy S6 for 50% off for those who sign a lease program. Getting customers the impressive Galaxy S6 for $0 down, and only $9 a month rather than $18 a month. Meaning the phone is half-off, and you'll get Amazon Prime free for a year. This deal is good for current customers, those adding a new line, or new customers.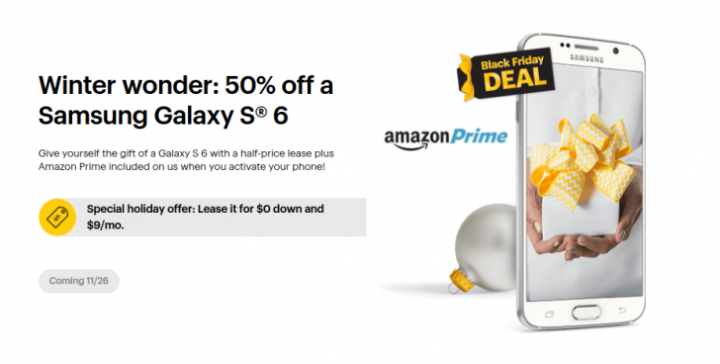 Sprint also has a new "iPhone Forever" deal which will get customers the newest iPhone every year, each year, forever, for only $1 a month. This is a limited offer, available in-stores only, and requires a 21-month lease to qualify. It does mention customers can order by phone too, if you'd rather skip the lines.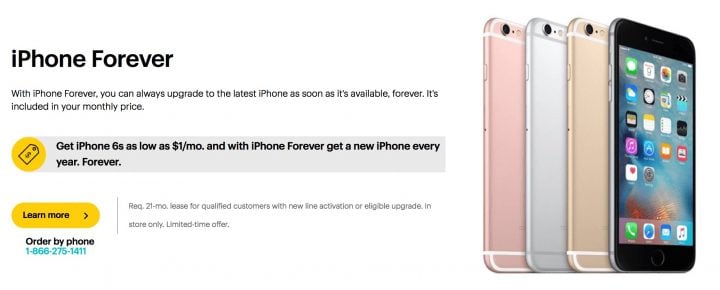 That isn't all though, and Sprint wants to give out 24-inch LG HDTV's absolutely free, as well as offer addition deals and savings on tons of accessories from LG, Fitbit, Garmin and more. Buy a new LG G4 from Sprint for $18 a month with Sprint Easy-Pay lease, and get a free 24-inch LG HDTV worth $179. This deal is only available to current Sprint customers that upgrade, or add a line, and it's not available for new customers.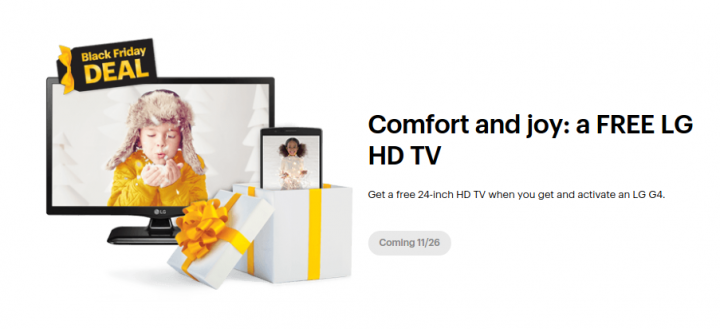 Sprint will also be offering a $100 service credit for anyone who buys the Galaxy Note 5, not to mention a free LG G Flex 2, the LG Tribute 2 for only $99, and a $50 service credit for anyone who buys a certified pre-owned phone.
And finally, Sprint is offering huge savings on some of the most popular accessories when it comes to headphones, or health and wellness fitness trackers. Everything from the FitBit Charge and FitBit Charge HR for $30 and $40 off, to the LG Tone Pro wireless bluetooth headphones for only $39.99. Regularly priced at $69.99.
Sprint's Black Friday 2015 deals will go live on Thursday November 26th, and supplies will be limited, so hurry in and grab a brand new Galaxy S6 and Amazon Prime, an LG G4 and a free TV, or some awesome accessories for cheap. Perfect for stocking stuffers, or as a gift for yourself. Stay tuned for more details, and be sure to check our Black Friday portal for any and all deals.

As an Amazon Associate I earn from qualifying purchases.