Sprint-Bound LG Cayenne Leaked Again With Updated Specs
It looks like we have another image of the LG Cayenne, which is headed to Sprint's 4G LTE Now Network, and the device is now rumored to have updated specs from when we last heard of the device. Rather than a Qualcomm Snapdragon S4 processor clocked at 1.2 GHz, we're now hearing that the mid-range 4G LTE smartphone will debut with a Snapdragon S4 CPU clocked at 1.4 GHz. The device will come with Android 4.1 Jelly Bean and be skinned with an LG UI on top according to Brief Mobile.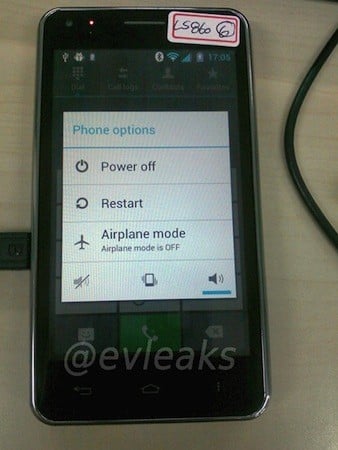 The device will have a 4-inch WVGA screen, making it more compact than more high-end displays with 4+ inches of screen space.
The LG Cayenne is expected to be roughly similar to the mid-range LG Viper 4G, which is one of the first 4G LTE smartphones that Sprint launched on its network. However, the Cayenne will have a landscape-oriented hardware QWERTY keyboard. The keyboard does look spacious in a previously leaked photo.
Neither Sprint nor LG has formally announced the LG Cayenne and it's unknown what the device will be priced at when it launches. The phone may be among the first devices to be launched with Android 4.1 Jelly Bean if it launches soon.

As an Amazon Associate I earn from qualifying purchases.