Sprint Galaxy Nexus Might Launch April 22nd
It would appear that Sprint's Samsung Galaxy Nexus might still be on track for a launch this April even if the carrier has yet to give it any sort of official release date as of yet.
According to evidence obtained by Android-Life, the Galaxy Nexus might finally make its way to Sprint on April 22nd. That's because that's the day that employee training with the smartphone ends.
This is not the first time that we've heard April 22nd mentioned as a possible release date for Sprint's Nexus device and this latest evidence seems to rule out April 15th, a date that was previously rumored.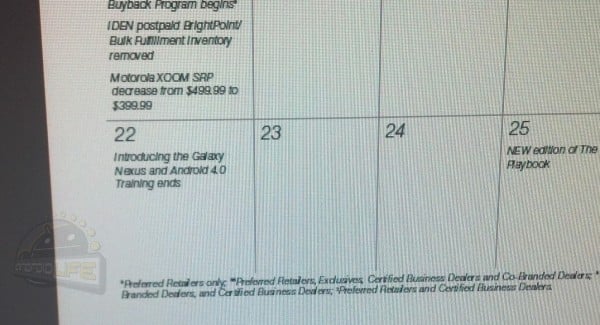 April 22nd is also the day that Sprint might also be launching the LG Viper 4G LTE, an eco-friendly Android smartphone that will cost $100 on-contract and appeal to those that want 4G LTE data speeds, but don't want to spend a ton of cash.
So it appears that Sprint might be gearing up for a dual-launch and quite possibly, even a triple launch, if the carrier decides to launch its 4G LTE network on the same day as the devices.
Sprint's Galaxy Nexus will likely be the same device that is currently found on Verizon's network save for the support that it will have for Google Wallet, Google's mobile payment platform.
In addition, it will feature a 4.65 HD Super AMOLED display, 32GB of storage space, a 5MP rear camera, a front-facing camera, a 1800 mAh or so battery, and Android 4.0 Ice Cream Sandwich right out of the box.
It can be seen in action in the video below:
The only competition to the Galaxy Nexus on Sprint seems to be the upcoming HTC EVO 4G LTE which has been rumored to be arriving in June. Until it arrives though, the Galaxy Nexus will be Sprint's only 4G LTE flagship.

This article may contain affiliate links. Click here for more details.