Sprint Galaxy S II Epic 4G Touch Full Specs Revealed
The SGSIIE4GT, aka Sprint Galaxy S II Epic 4G Touch, leaked out earlier in a couple of images before it's official announcement later on tonight, images that confirmed several of its more important specifications including its massive 4.52-inch touchscreen, a 1.2GHz dual-core processor and its 4G WiMax capabilities. And now, lo and behold, the full spec sheet for Sprint's device has leaked out making the AT&T and T-Mobile devices the real stars of tonight's show.
Android Central has pulled up a massive spec list for the Epic 4G Touch, still not in the love with that name, and it reveals just about every spec that those of you interested in this device could ask for.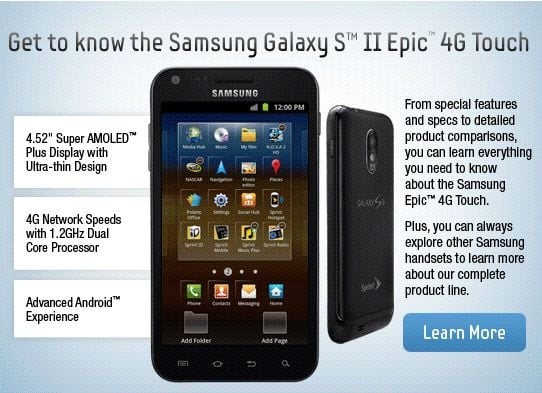 We've got the processor type, we've got the thin form factor's dimensions, we've got Bluetooth, and of course we've got the bloatware all listed.
Here is the full spec sheet ladies and gents:
4.52 inch Super AMOLED Plus display
Ultra-thin (9.59mm) design
Samsung Exynos 1.2GHz dual-core processor
Wimax 4G radio
Media Hub
8MP rear camera and 2MP front camera
Social Hub
HD video recording
Samsung Kies Air
Wifi calling
NOVA 2 HD pre-loaded
Swype pre-loaded
AES-256 internal/external hardware encryption
Bluetooth 3.0
Sprint ID
Polaris Office
Hotspot controls up to eight devices
Android 2.3
Optional USB Host kit for connection keyboards, cameras, printers and thumb drives
Optional HDMI adapter
Multimedia and Car docks will be available
So, that's that.
Still, be sure to check in later. We'll be live at the event in New York and we'll be giving you as much coverage as we possibly can muster.
Anyone going to be picking this bad boy up?