Sprint HTC EVO 4G LTE vs Sprint Galaxy Nexus
This week Sprint and HTC unveiled their new flagship Evo phone, the EVO 4G LTE. This handset is already cause for much excitement, but what about the other flagship phone coming to Sprint soon? That would be the Samsung Galaxy Nexus.
Both phones will run on Sprint's as-yet-unveiled 4G LTE network. Both phones represent the pinnacle of Androidness in terms of software and specs. So which one should you pick when the time comes?
Read on to compare each phone's software, operating system, hardware differences and more.
Software and OS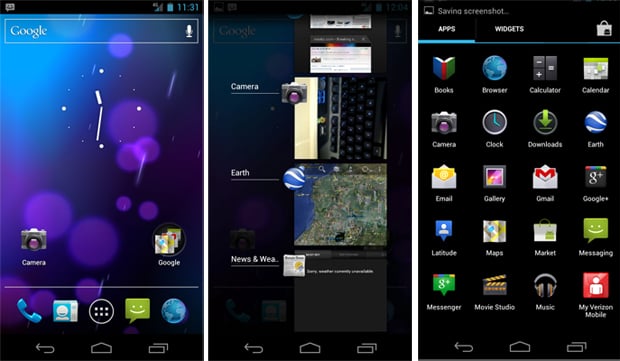 The difference that will matter to many hard-core Android lovers is in the operating system itself. Both the Evo and the Nexus ship with Android 4.x Ice Cream Sandwich, but the Evo adds HTC's proprietary Sense 4.0 skin on top of that. Android purists will no doubt stick with the stock version on the Nexus, but there are pros and cons to both experiences.
The Nexus line of phones are Google's flagship devices, so they tend to get updates — minor and new versions of Android — faster than other phones. That's a big advantage for those who want the latest, greatest version available.
(Related: Guide to Android 4.0)
Phones with skins like the Evo and other HTC devices will usually get updates eventually, but eventually may mean weeks or months later. This doesn't apply to updates that relate to security issues or bug fixes, mind. Still, it's a sticking point for many users.
Aside from that, HTC's Sense 4.0 changes Android's user interface quite a bit when compared to the unmolested version. These changes smooth some of the rough edges off of Android by offering more widgets, bringing some settings and functions that are buried in menus more to the forefront, and adding functionality like the ability to launch any app you want from the lock screen.
The skin doesn't take away any of Ice Cream Sandwich's functions, it just sometimes re-contextualizes them.
(Read: Hands-On With HTC Sense 4.0)
Though ICS is designed to be button-free, HTC chose to provide hardware buttons for Home, Back, and Recent Apps. You'll still need to find the Menu icon on apps that still use it.
The Evo will come pre-loaded with more apps than the Nexus. The Verizon version had a few apps specific to that carrier, but otherwise came with Google apps. This will likely be true for the Sprint version.
HTC has several apps of their own that work with or enhance Sense plus third-party apps (some unannounced at this time).
Design and Hardware
Thanks to their large displays — 4.65-inches on the Galaxy Nexus, 4.7-inches on the EVO 4G LTE — these are both tall, large phones. They have similar measurements, though the Nexus is slightly heavier:
Nexus: 5.33 x 2.67 x 0.37 inches, 5.3 ounces
Evo: 5.3 x 2.7 x 0.35 inches, 4.7 ounces
Both are very thin and light for their size, though the Evo is a bit more impressive considering that it packs in a 2000 mAh battery compared to the 1850 mAh one that ships with the Nexus. That's due to HTC engineering — the battery is so integrated into the design that it's not user removable, whereas the Nexus battery can be replaced or upgraded to an extended model.
On the hardware side, the two phones' differences are minor. It may be interesting to see how the Snapdragon processor inside the Evo stands up to the TI OMAP one in the Nexus, but for most users it comes down to this: both phones will open and run apps snappily, play HD video smoothly, and make for great mobile gaming. Power isn't going to be the differentiator here.
What may sway some customers are two design elements on the Evo: the kickstand and the shutter button.
People liked the kickstand on the original Evo and I'm happy to see it back on the new version, even if it isn't as useful as the one on the Thunderbolt. Given that you have a large, beautiful screen perfect for watching video, it's understandable that people will want and easy way to set it up for that. Plus, it's useful for hands-free Google Hangouts.
The hardware shutter button is a nod to HTC's emphasis on cameras with their 2012 phones. It helps cut down on shake and on focusing and feels more like a real camera. If you take a lot of pictures this feature is pretty enticing.
(Read: Why Mobile Photographers Should Choose the Sprint HTC EVO 4G LTE Over the One X)
Camera
Speaking of the camera, there are significant differences here, too.
Samsung and Google touted the Nexus shutter speed and it does indeed take pictures very fast. However, the resulting pictures aren't that impressive. The app includes some features to help take better shots including scene mode and white balance, though it's mostly no-frills.
Good cameras are one of HTC's key features across all of their new phones, including the EVO 4G LTE. The hardware shutter button is just the beginning.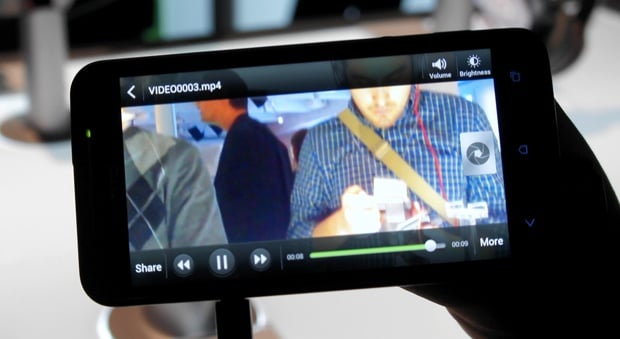 The camera app offers a wealth of features and settings to help everyone from novices and amateurs to professional photographers take great shots. It's probably not going to replace your DSLR, but the Evo does make a good case for leaving your good point-and-shoot at home. The 8MP camera plus large sensor make for great photos and users can apply settings, effects, even filters before or after taking a picture.
Though pretty fast, the Evo can't boast a near-instant shutter speed like the Nexus. But the results are worth waiting for.
Multimedia
Another area that HTC is pushing is the inclusion of Beats Audio on the Evo. Any time users listen to music, watch video, or play games, the enhanced audio (mostly driven by good equalizer settings) kicks in. The difference is noticeable and very welcome.
The Galaxy Nexus produces pretty good audio quality, though it's nothing special. Thankfully, the speaker is pretty loud.
Since both phones have big, 720p displays they're great for watching video and playing games. Again, not much difference.
Call Quality
The call quality on the Samsung Galaxy Nexus is excellent and earned praise from the entire staff when we first reviewed the phone. The people we called reported very clear audio from our end even with some background noise. Callers came through the earpiece loud and clear.
While we haven't had a chance to test the HTC EVO 4G LTE yet, it is HD Voice capable. Sprint is in the process of upgrading their network now to support HD Voice on the Evo and other phones. It works thanks to a combination of network upgrades and technology in the phone itself, including dual mics that help eliminate background noise.
HD Voice promises ultimate clarity and the demo we heard at the Evo launch event sounded very promising. However, Sprint hasn't roll it out yet.
Price
When the Evo comes to Sprint it will cost $199 with a 2-year contract. [Update 4/16] We learned today that the Galaxy Nexus will also cost $199 with a contract and come with a $50 Google Wallet credit. That's $100 less than the Nexus price for Verizon Wireless. It looks like Samsung wants to take on the Evo directly.
The Galaxy Nexus is available for pre-order now and will be available on April 22. HTC still hasn't announced when the Evo will hit stores, but it will be after the May 7th pre-order date.
Once both phones launch we'll be able to make a more direct comparison, but the major differences above will remain the same.
Customers who want the "pure" Android experience will find the Samsung Galaxy Nexus a compelling choice. Shutterbugs and customers who are less comfortable with stock Android will gravitate toward the HTC EVO 4G LTE.
Which of these Android superphones do you plan to buy?
[polldaddy poll=6115714]

This article may contain affiliate links. Click here for more details.