Sprint Samsung Galaxy S III Details Leak
Sprint and Verizon are the only two carriers that have been rumored to be getting the upcoming Samsung Galaxy S III and today, Sprint's version of the device has apparently seen details leak out.
Pocketnow has dug up the device's user agent profile which reveals a couple of details about Sprint's version of the device and also offers a glimpse at what we might expect from the Galaxy S III should it arrive on some other U.S. carriers.
It also seems to confirm a previous rumor that indicated that the Galaxy S III was headed to Sprint's 4G LTE network.
Read: Has Verizon Already Screwed Galaxy S III Owners?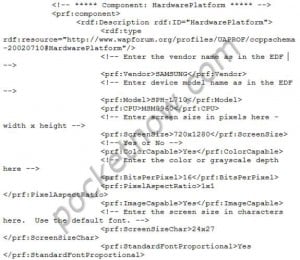 The user agent profile points to the phone as having a Qualcomm S4 Snapdragon processor which is dual-core in nature. It also have been revealed to have 16GB of internal storage space.
Those are the only two details revealed but we can read into it further.
It had been thought that the 4G LTE version of the Samsung Galaxy S III would employ an Snapdragon S4 processor and it appears that this will be the case. The HSPA+ model has a quad-core Exynos processor.
What this means is that should the Galaxy S III arrive on either AT&T or Verizon, it probably won't be quad-core in nature. T-Mobile however does not have a 4G LTE network and will be operating an HSPA+ network until 2013 when it too shifts to LTE. So that means that T-Mobile might be the only U.S. carrier to offer a quad-core version of the Galaxy S III.
Read: Which U.S. Carriers Will Get the Galaxy S III?
The Samsung Galaxy S III is currently slated to arrive in the U.S. during the month of June but as it stands, none of the United States' major service providers have confirmed that they will be playing host to the Galaxy S III.
All versions of the Galaxy S III will feature a 4.8-inch Super AMOLED HD display, an 8MP rear camera with loads of bells and whistles, NFC support, a front-facing camera, and Android 4.0 Ice Cream Sandwich.