Sprint Samsung Galaxy S III Orders Begin to Ship
Some customers who pre-ordered the Sprint Samsung Galaxy S III have received shipping notifications from the carrier ensuring them that their device has been shipped out for delivery.
According to Android Central, some customers who pre-ordered Sprint's 16GB Galaxy S III are receiving shipping notifications indicating their device is headed for a delivery truck. This should mean that at least some users who pre-ordered will see Sprint's version of the Samsung Galaxy S III arrive tomorrow, the day that Sprint originally announced as the device's launch day.
Sprint has also said that it may be a day or two late in shipping some 16GB Galaxy S III orders out. Those who have pre-ordered will want to check with Sprint to figure out the status of their order.
Read: Samsung Galaxy S III Review: Editors' Choice.
The news comes just a day after Sprint admitted that it was going to have trouble meeting demand for the Galaxy S III. The 16GB Galaxy S III will be available online starting tomorrow but it's unclear if the 32GB will as well.
Sprint has said that it won't start shipping 32GB Samsung Galaxy S III orders until next week so we assume that it will only be the 16GB model available online tomorrow.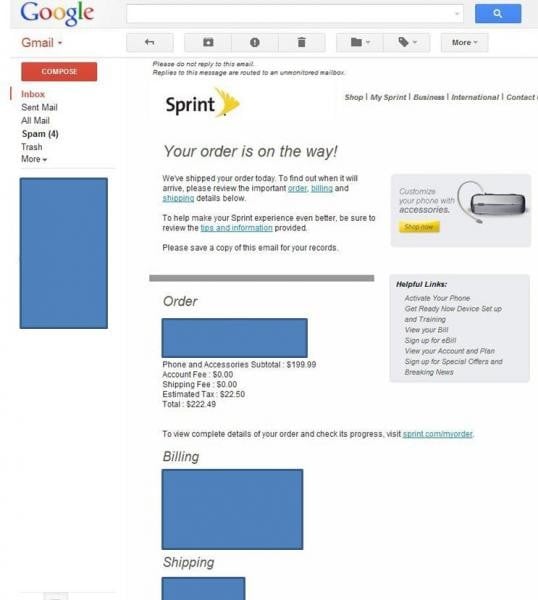 As for a release date in other retail outlets, June 28th seems to be the day that that will occur. Wirefly informed us yesterday that it expected the device to roll in a few days late on June 28th.
AT&T and T-Mobile have both seen similar delays as well which can likely be attributed to the amount of demand there is for this device. Samsung has announced that it has already taken more than 9 million pre-orders for the phone, something that also delayed the launch of the device in Canada by a week.