Sprint to Begin Honeycomb Roll-Out for HTC EVO View 4G Tablet
Sprint is beginning to roll out its Android Honeycomb update for the carrier's debut tablet, the HTC Flyer, which is the first tablet that Sprint had supported on its Network with embedded 3G CDMA and 4G WiMax radios. The 7-inch tablet is a variant of the HTC Flyer and comes with an active digitizer for annotations, note-taking, and drawing support. With an active digitizer, the HTC EVO View 4G's pen input is far more accurate than a capacitive stylus pen, but the tablet still doesn't have handwriting recognition to convert handwritten text into typed text, like on Microsoft's Windows tablet PCs.
The HTC EVO View 4G was launched with Android 2.3 Gingerbread at the time and came with a heavily customized version of HTC Sense, which HTC and Sprint also ported to the carrier's flagship smartphone in the form of the HTC EVO 3D. The new Honeycomb OS takes center stage this time around and customized HTC Sense user interface on top of Android is a lot more subtle and toned down in the latest update.
The Sprint Honeycomb deployment follows the international HTC Flyer's Honeycomb upgrade. The update brings the software version to 2.23.651.1. The update is scheduled to be pushed out starting tomorrow, but users wishing to hop on the upgrade early could manually check for the update under settings. Users should go to settings, system updates, HTC software update, and tap on check now.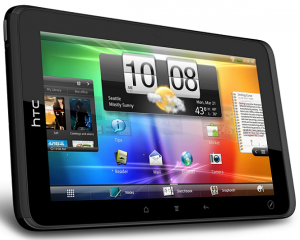 Here is a change log for the update:
Physical Hard keys replaced with on screen Soft keys
New Google search, available on every page
System Bar: Quick access to notifications, status, and soft navigation buttons available at the bottom of the screen
Notifications menu moved to the bottom right corner of the screen, on the System Bar.
The Action Bar–which can be accessed by touching the Plus Sign icon at the top right of the screen–is the key to contextual, changing menus that are controlled by each application.
Enhanced security including Sprint Data Link and 3LM
Fixes include:
Google video chat
Bluetooth capable in Airplane mode
Via: Phandroid

This article may contain affiliate links. Click here for more details.