Sprint to Deliver Android Update to HTC EVO 3D, Samsung Conquer 4G on Aug. 21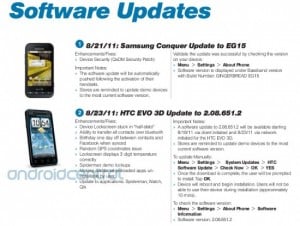 It looks like Android Central has obtained a shot of the leaked Sprint playbook, which details the Now Network's plans on releasing a new software update for the Samsung Conquer 4G and the flagship HTC EVO 3D. The Conquer 4G's update will begin rolling out first on August 21st while the update for the EVO 3D will deploy on August 23rd.
So far, other than mentions of security fixes and patches for the Conquer 4G, that over the air software update is relatively vague and additional information is not known.
As to the over the air update for the EVO 3D, the patch will bring a number of bug fixes, though it's unclear if the update will fix the issue with the black screen of death that we had reported about that some users are experiencing. However, the patch will fix issues with the lockscreen, temperature display, GPS, birthday synchronization via Facebook, and more.

As an Amazon Associate I earn from qualifying purchases.