Sprint To Drop Price Of Samsung Galaxy Tab To $200
According to a report from Engadget, Sprint is gearing up to take a huge chunk off the price of their Android 2.2-powered Samsung Galaxy Tab.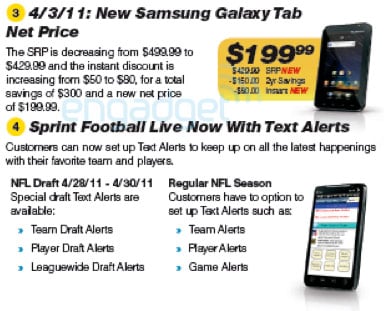 Evidence suggests that Sprint will be chopping the price down to a measly $199.99 with a new two-year contract, a full $100 off the current asking price of $299.99. The price drop will apparently take place this Sunday, April 3rd.
This news comes on the heels of CTIA, where Samsung introduced not one, but two new Galaxy-branded tablets, the Samsung Galaxy Tab 10.1 and Samsung Galaxy Tab 8.9.
Sprint itself also announced the HTC EVO View 4G, a WiMax version of the HTC Flyer which will be out sometime this summer.
If that's too long of a wait, Sprint's price drop makes their version of the Galaxy Tab one of the most affordable and thus, one of the most attractive 3G tablets on the market.
Sprint's HTC EVO View 4G
Samsung's Galaxy Tab 10.1 and Galaxy Tab 8.9