Sprint Unveils the HTC EVO 4G LTE
As expected, HTC and Sprint took the stage today in New York City to announce a new smartphone. The device will not be called the HTC EVO One as was rumored but instead, the device will be called the HTC EVO 4G LTE.
It will be the fourth EVO-branded smartphone that the companies have released together, the first being the HTC EVO 4G which was originally released back in 2010.
The HTC EVO 4G LTE will be the first EVO-branded smartphone that features 4G LTE data speeds. Sprint will be rolling out its next-generation LTE network later on in the month of April.
The EVO 4G LTE will be crafted out of aluminum, a detail that is sure to delight Android and EVO enthusiasts and Sprint and HTC have brought back the fabled kickstand, a feature that was first introduced on the EVO 4G but disappeared with the arrival of the HTC EVO 3D last year.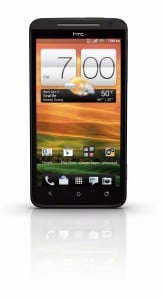 Sprint's latest 4G LTE smartphone will feature a a 4.7-inch Super LCD display with 720p HD resolution, a dual-core 1.5GHz Qualcomm Snapdragon processor, an 8MP rear camera that is powered by a dedicated ImageChip and has a physical button, 16GB of storage, 1GB of RAM, an NFC chip for use with services like Google Wallet, and a spacious 2,000 mAh battery.
It will come with Android 4.0 Ice Cream Sandwich on board and will also have HTC Sense 4.0, HTC's latest version of its user interface. The only other devices that have HTC Sense 4.0, at the moment, are the HTC One Series of smartphones.
In addition, the EVO 4G LTE will be the first device in Sprint's arsenal to feature HD voice, a feature that will become enabled later on in 2012.  Sprint describes HD voice as providing a "fuller, more natural-sounding and less fatiguing voice quality and should reduce troublesome background noises often found in a cafe or on the street."
It will also come with Beats Audio.
The HTC EVO 4G LTE will be launching in Q2 for $199.99 and pre-orders begin on May 7th. 

As an Amazon Associate I earn from qualifying purchases.