Sprint's Latest 4G Phone Just Got A Lot Cheaper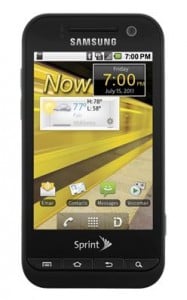 The Samsung Conquer 4G hasn't even come out yet. Nope, it's not scheduled to hit Sprint until August 21st. When that day arrives, the Conquer 4G will officially become one of Sprint's most affordable WiMax-enabled devices as its scheduled to arrive on shelves for $99.
Not bad, but with those specs, it's not amazing.
Amazing would be a device devoid of a price tag and that's exactly what Walmart is offering right now through its pre-order for the Conquer 4G. That's right, you can get a phone that's not even out yet for the low, low price of free if you wish.
It's not every day that you see a WiMax phone that hasn't even come out yet become available for free. Keep in mind, the Conquer 4G doesn't have mind blowing specifications but they are capable. It rocks a 3.2MP rear camera, 1.3MP front camera, 1GHz processor, Android 2.3, and a3.5-inch display.
So, if that sounds like a steal to you, you can head here and snag the Conquer 4G for nothing but a new two-year contract.
Via: Engadget

As an Amazon Associate I earn from qualifying purchases.