Star Wars: Jedi Challenges Review – The Ultimate Lightsaber Experience
Star Wars: Jedi Challenges is exactly what Star Wars fans have been dreaming of for the past 40 years.  For $199, you get a replica lightsaber, an augmented reality headset that combine to allow you to battle lifelike holograms of Darth Vader, Kylo Ren and other members of the dark side.  This Star Wars: Jedi Challenges review will give a complete description of what you get for $199 and help you decide if it's worth the money.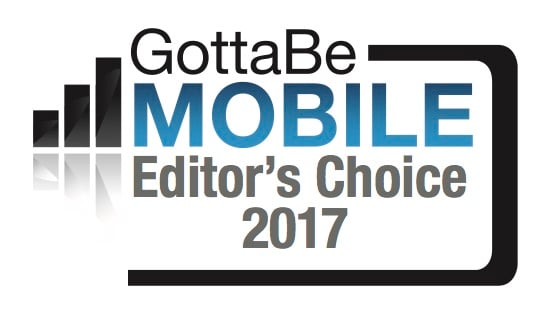 There's no shortage of Star Wars toys, games and memorabilia to choose from these days.  In addition to the standard fare of replica lightsabers and Lego sets, you can buy everything from a realistic R2-D2 robots to X-Wing drones that can fly 35 mph. However, no other toy or game does as good of a job of immersing fans in the Star Wars universe as Star Wars: Jedi Challenges.  That's why we awarded Star Wars: Jedi Challenges with our Editors' Choice Award.
The above video gives a quick overview of the three main game modes you can play in Star Wars: Jedi Challenges on your way to becoming a Jedi master.  Disney and Lenovo partnered to create Star Wars: Jedi Challenges as an augmented reality experience.  Lenovo's well-known for its ThinkPad laptops and other technology hardware, while Disney is of course famous for movies and storytelling.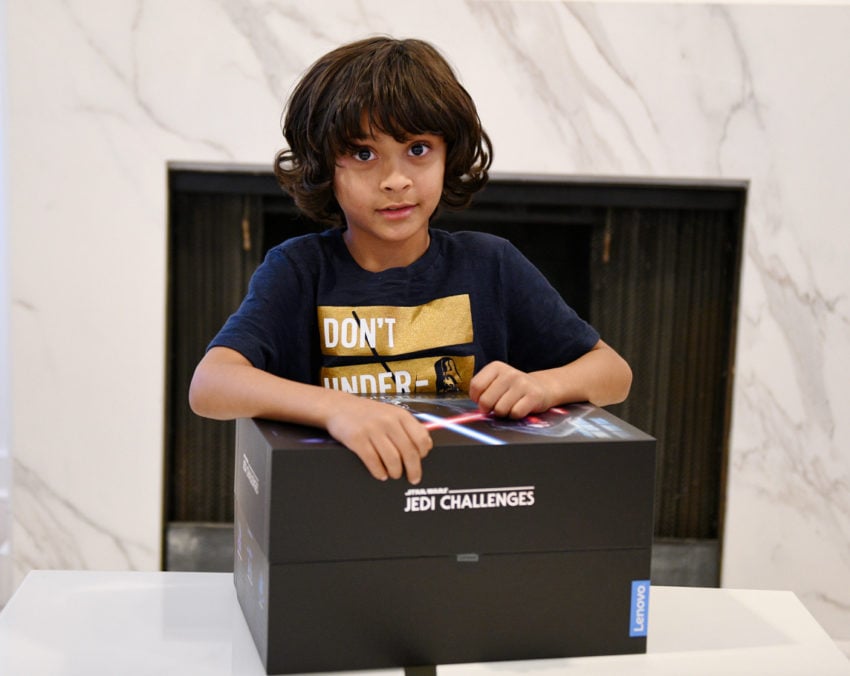 If you're thinking about giving Star Wars: Jedi Challenges as a gift, it's worth noting that it comes in a nice, substantial box. Any kid, even overgrown ones that grew up with the original Star Wars trilogy, will appreciate unboxing the set.  My six-year-old son helped unbox and review the unit Lenovo sent over.
The very first thing you'll find in the box is the replica lightsaber. If it looks familiar, that's because it's modeled after the lightsaber that was passed down from Anikan Skywalker to Luke Skywalker, then rediscovered by Rey in Star Wars: The Force Awakens. The lightsaber is has an accelerometer and tracking light to keep track of its movements and produce an accurate beam when wearing the goggles.
Besides the lightsaber, the box contains a wall adapter for charging the lightsaber and headset, adapters to connect your smartphone to the headset, and a tracking beacon. A pair of AA batteries are included for the tracking beacon. Setup is pretty straightforward thanks to step-by-step instructions in the Star Wars: Jedi Challenges app.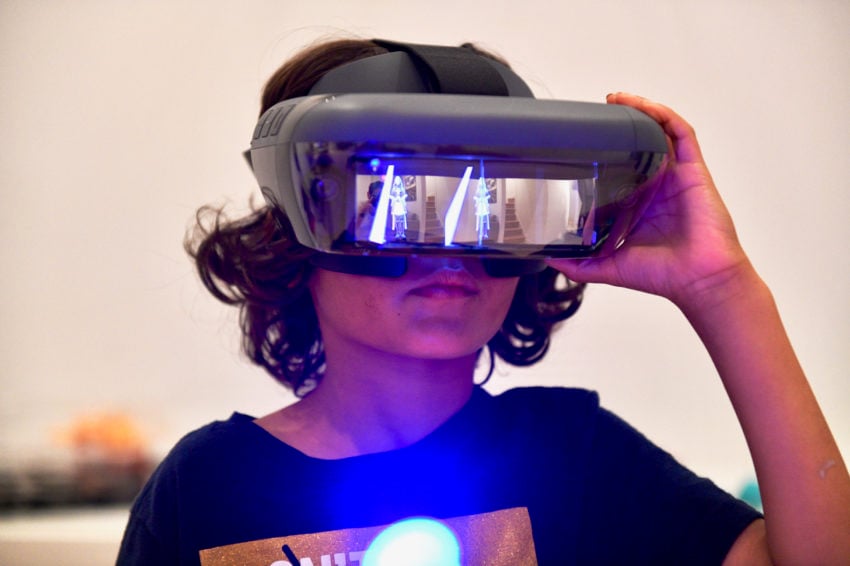 At the core of the experience is the Lenovo Mirage AR headset.  The headset has a tray for your smartphone that places the display facing down, just above your eyes. Some fancy optics tricks turn whatever's on your phone's display into holograms that appear in front of you. There is a camera on each side of the headset that tracks the lightsaber's position and keeps track of the beacon. Straps on the sides and top of the headset hold it in place. This worked fine except for  one time when my son started jumping up and down rapidly to avoid getting hit by an opponent's lightsaber and the headset crashed to the ground. It was unscathed, but perhaps a chin strap or some other tether would help avoid drops.
After loading up your phone with the free iPhone or Android Star Wars: Jedi Challenges game, you simply slide it into the tray and plug it into the headset with one of the three included cables.  The cables each have micro USB on one end to plug into the headset, and Lightning, micro USB, or USB-C on the other. As of the Star Wars: Jedi Challenges launch, the iPhone 6, iPhone 6 Plus, iPhone 6s, iPhone 6s Plus, iPhone 7, iPhone 7 Plus, iPhone 8 and iPhone 8 Plus are all compatible. On the Android side, the Google Pixel, Google Pixel XL, LG G6, Moto Z² Force, Samsung Galaxy S7, Samsung Galaxy S7 Edge and Samsung Galaxy S8 will work. More phones are being certified to work with the app in the coming weeks and months.
One downside of using your smartphone in an augmented reality headset is that the phone isn't usable for as long as you're playing the game. Thankfully, Lenovo loaned me a Moto Z² Force smartphone to demo with the game, so I didn't have to worry about what to do if my primary phone started ringing while it was in the headset.
Augmented reality means that the games appear as holograms over your surroundings. Virtual reality's been getting much more attention lately. Virtual reality completely immerses users and blocks  out their surroundings. Virtual reality gaming is expensive and requires much more computing power than most people have. Rather than relying on expensive components, the Star Wars: Jedi Challenges headset uses the light from the included beacon as a zero reference point.
My son's on the young side for playing this game, but he really got into the Lightsaber Battles. There are two modes that you can play.  He really enjoyed battling hordes of enemies in Assault Mode, where he reflected battle droids' blaster fire back at them and "chopping them into bits." Darth Maul was a little too intimidating for him. Before you misjudge this game as child's play, it's worth noting that the Star Wars villains get much more difficult to defeat as the game progresses.  I am sure Lightsaber Battles will be a big hit at family gatherings this holiday season.
Strategic Combat mode is much more fun than I expected. In this mode, you get to control an entire battle field of Star Wars characters.  There's no shortage of battlefield games on phones, but seeing all holographic Star Wars characters and vehicles battling it out on my living room floor was pretty incredible.
Holochess is a 3D board game that features aliens that battle each other. The game first made an appearance onboard the Millennium Falcon in Star Wars: A New Hope, all the way back in 1977. Back then, playing holographic chess was science fiction and it still was…until now.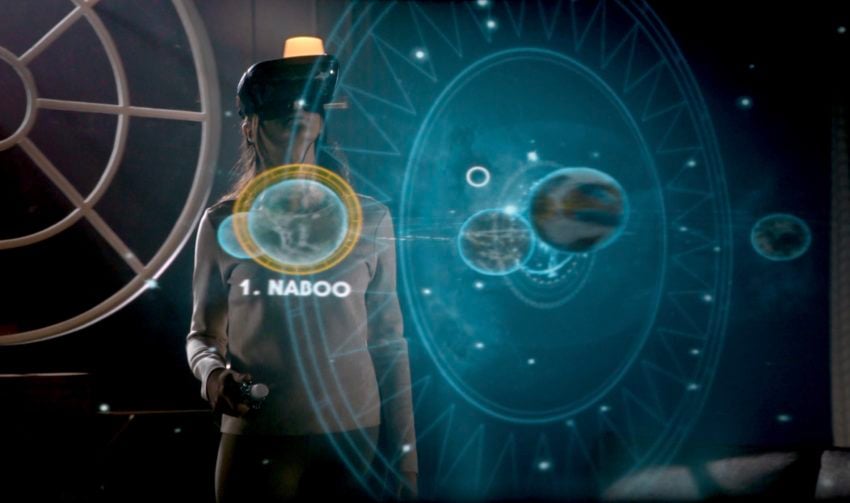 Star Wars: Jedi Challenges app has eight levels, represented by planets. While the levels increase in difficulty, the battles can feel repetitive after a while. That's a limitation inherent on mobile games and I hope that Disney's able to expand the depth of the games as it produces new Star Wars movies, shows and other content.
While $200 is a lot of money to play on a game and its necessary accessories, it's still a good value, especially compared to what else you can get in the Star Wars ecosystem. New for this holiday season are the Sphero R2-D2 Droid is $180 and the Lego Millennium Falcon is $799.  If you want to blow your kids' minds, fork over the $200 and they'll get a lot more fun out of it than any other Star Wars toy out there.