STM Radial 15-inch Laptop Messenger Bag Review
The STM Radial 15-inc Laptop Messenger Bag gives laptop and notebook users great protection while carrying a ton of accessories in this subdued black bag. It also offers an interesting design that gives users portable power while stowing electronics.
STM Radial 15-inch Laptop Messenger Bag: Pockets Galore
I like the design of the STM Radial 15-inch Laptop Messenger Bag with a long and comfortable adjustable shoulder strap. It's not flashy or colorful, which some people may not enjoy. People who like a conservative look will also like the bag. It comes in three colors, the black bag they sent me for review and a Moroccan blue and steel.
A messenger bag protects the contents with a flap that folds over to cover the top edge from the elements. In that flap, there's an external pocket with one wide pocket inside that can hold accessories or cables and even a small device like a Kindle. A smaller pocket inside this front pocket will hold a cell phone or maybe some other smaller accessories. The pocket these two pockets sit inside closes with a zipper. I carried spare cables for my iPad and iPhone as well as my Kindle Fire charger.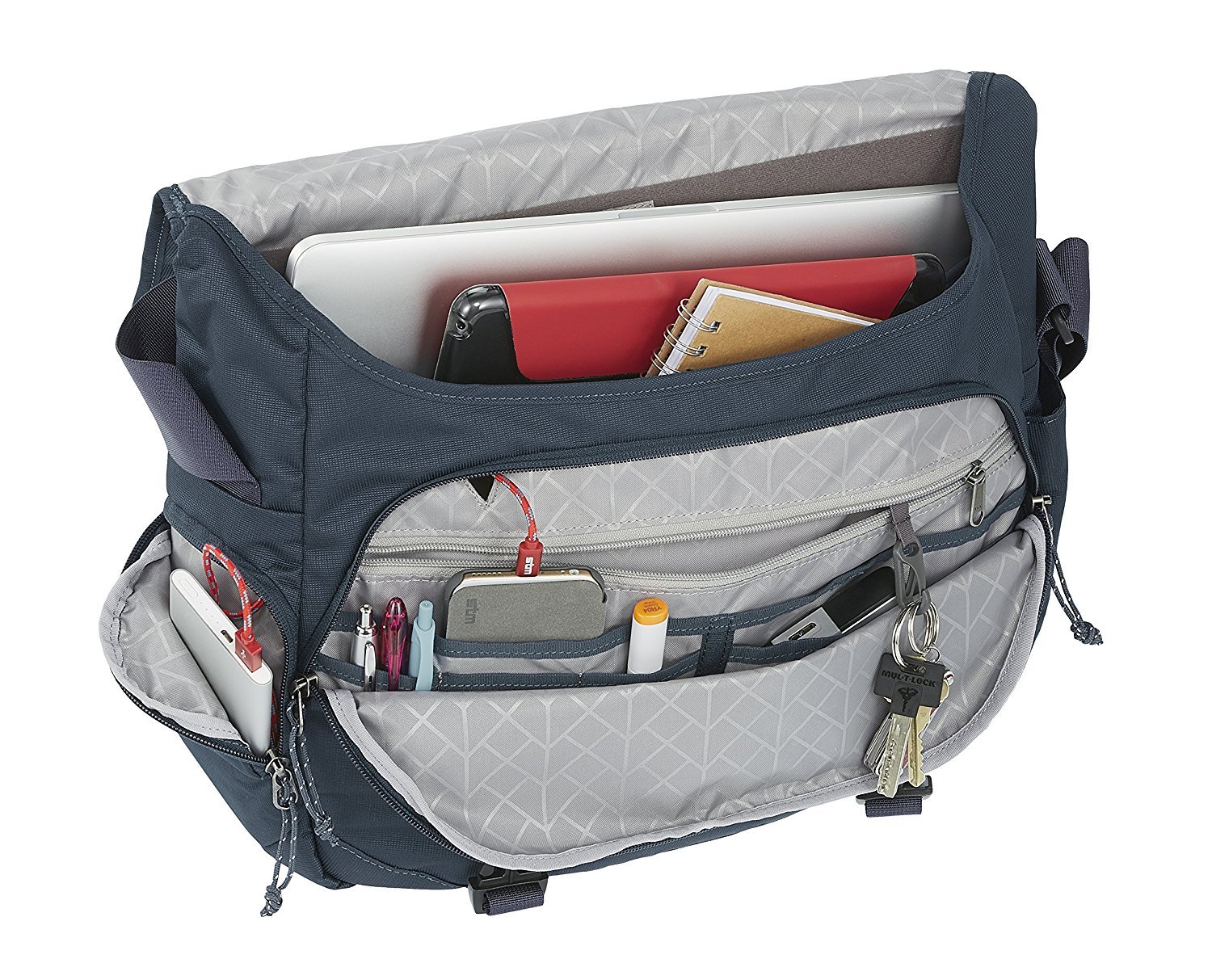 On the back, there's another pocket that covers the entire width of the back. It's great for magazines or some file folders, but nothing much thicker. It also has a loop that will slide over the handle of your  rolling suitcase.
The flap fastens closed with two plastic fasteners. Pull them to tighten the flap. Unfortunately, the adjustable length nylon straps adjust too easily. I kept having to pull them to tighten it. That's a minor annoyance that didn't really impact the use of the bag.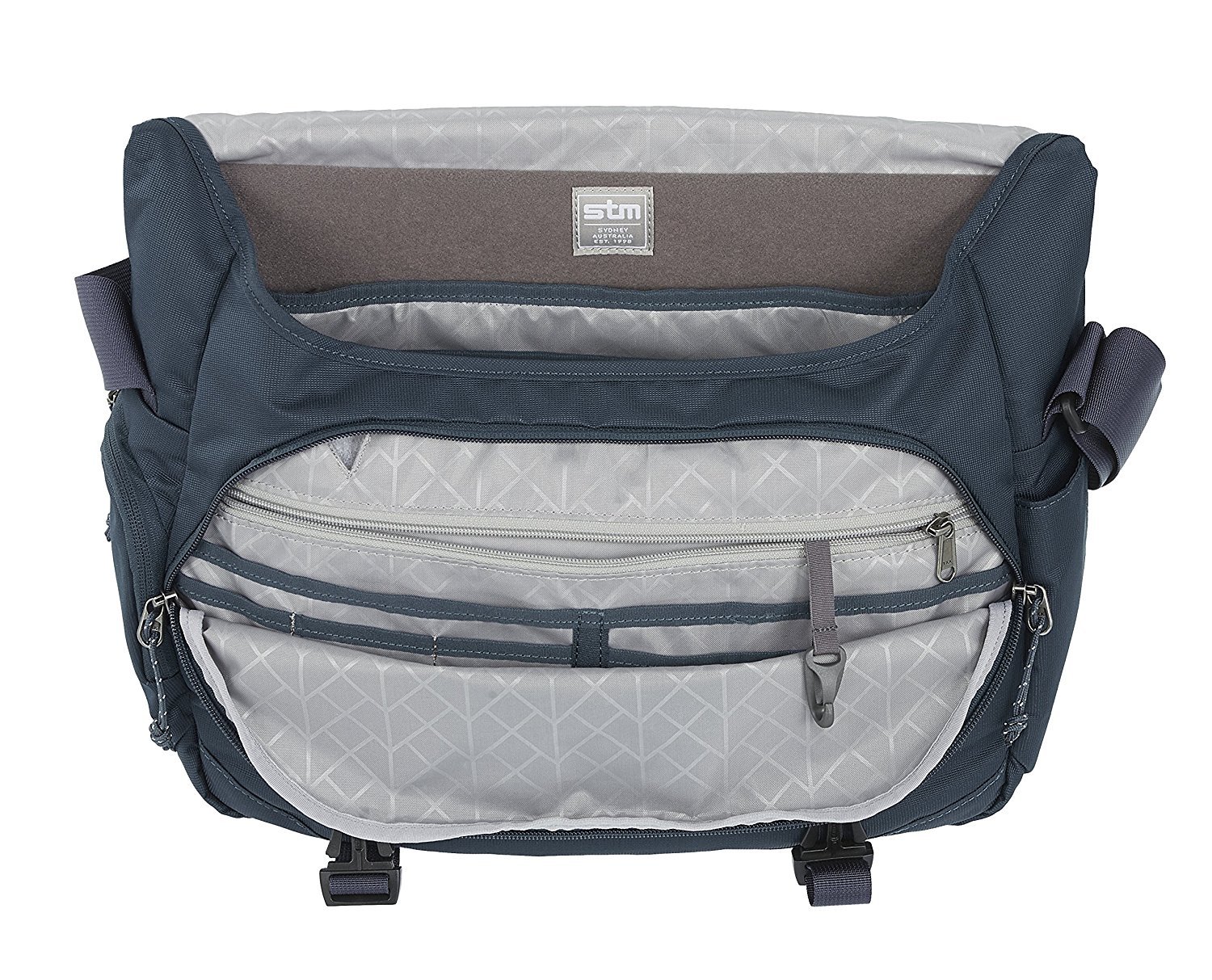 On the front, inside the flap, there's another zippered pocket with two zippers. Inside that pocket is another wide zipper pocket and three other pockets about half the width of the larger pocket. Two sit on the right side and one on the left. Then there are three smaller pockets for things like pens, a stylus or small cables.
Also inside this front pocket, there's a little hole so you can fit a cable or a couple of cables through. This lets you keep a battery inside the bag and run the cables through the hole to the devices you hold in this external pocket.
Inside the flap, the center of the bag holds two more pockets, one big enough to hold up to a 15-inch laptop and a slighty smaller perfect for a ten-inch tablet. The larger pocket fit my 14-inch Lenovo Yoga 910 and my iPad Pro 12.9-inch.
Whew! That's a tone of pockets and storage for a relatively small bag. But wait! There's more.
Cable Routing for Charging with a Portable Battery
There's another compartment inside that holds two more pockets that run half the width of the internal compartment. Inside one of these we get a third pocket with a flap over it and a Velcro fastener.
On the two short ends, we get two more pockets. One closes with a zipper and has another hole for cables to charge a smartphone with a battery inside the front pocket. STM sells a 5,000 battery for $50 (below) that's designed to fit the pocket. On the other side, the pocket's open, ready for a small water bottle or some other accessory you need to reach quickly.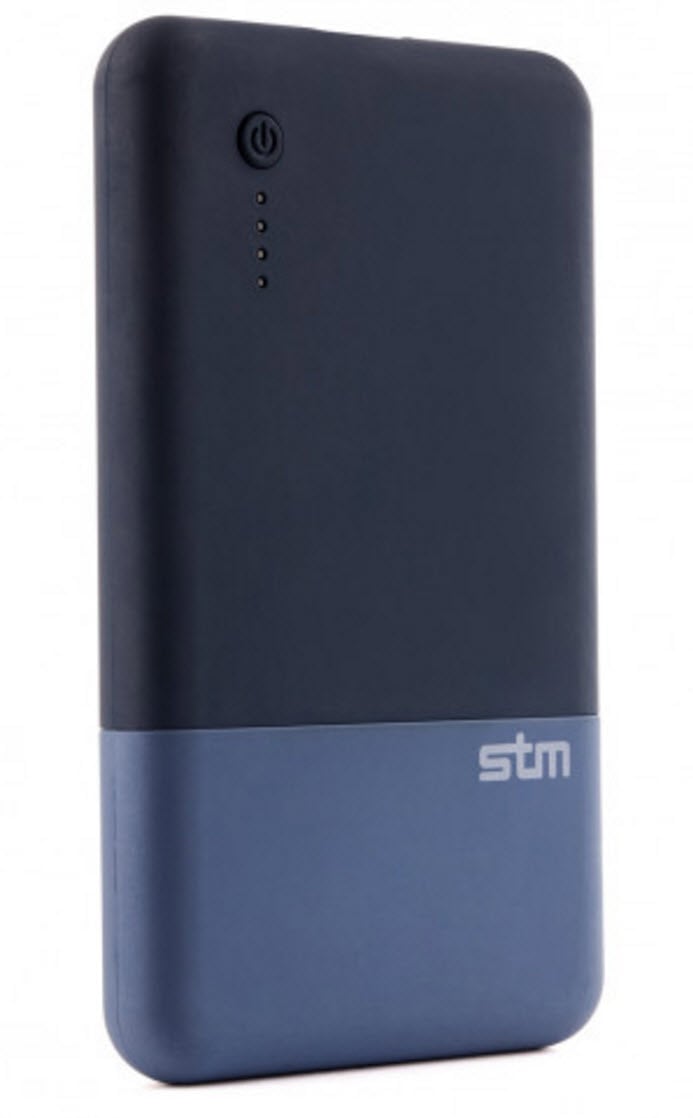 The company made the bag with a soft durable nylon material. The inside lining looks gray with a pattern of lighter gray lines and angles.
Our STM Radial 15-inch Laptop Messenger Bag has a compact design that holds a lot of accessories and peripherals for a bag this size.
STM Radial 15-inch Laptop Messenger Bag: Protection

The base of the STM Radial 15-inch Laptop Messenger Bag protects the contents you carry with an interesting cushioned design. There's a space between the bottom of the bag and the bottom of the internal pocket. This cushion of air helps keep your laptop or tablet safe if you put it down a little harder than planned. The corners also come with a little extra protection to keep things safe by absorbing impact.
The material used to make the STM 15-inch Radial Messenger Bag will give the user some water resistance. It will probably keep things safe and dry in a light rain, but I wouldn't trust it for very long in a torrential downpour.
STM Radial 15-inch Laptop Messenger Bag: Value
STM charges $99.95 for the bag. That's not the cheapest bag, but it's also not a bad value for a bag that holds this much and protects devices from both impact on the bottom and the weather. People who like a conservative look will like the design. It's a great solution for the average business man or woman carrying a larger computer and a ton of accessories.
I'm not a fan of messenger bags in general, but I like the STM 15-inch Radial Messenger Bag. If you want the black bag, get it at Amazon for a $7 savings off the retail price.

As an Amazon Associate I earn from qualifying purchases.