Subway Surfers Tips & Tricks
Endless runners are a popular genre in the gaming world, with Subway Surfers being one that's available on mobile platforms. If you're wanting to beat your high score, here are some Subway Surfers tips and tricks that you may find useful.
Subway Surfers has been around for a while now, but it still remains at the top of the App Store charts, and it's easy to see why. It's an addictive game, and like any endless runner title out there, you're always wanting to beat your high score every time.
The game tasks you with controlling a graffiti artist who's running away from the cops after he got caught spray-painting on public property. You must get your character as far as you can by dodging construction track signs, moving subway trains, and more while also collecting as many coins as you can, as well as a few other specialty items.
Of course, the game gets more difficult the farther you go, as incoming trains get faster and more obstacles appear that you have to quickly dodge. However, if you're adamant about beating that high score that you're having trouble getting to, here are some Subway Surfers tips and tricks that you should try out.
Complete Missions for a Higher Score
You could just play Subway Surfers and have fun doing it without having any goals and such, but completing missions can get you a higher score in the end.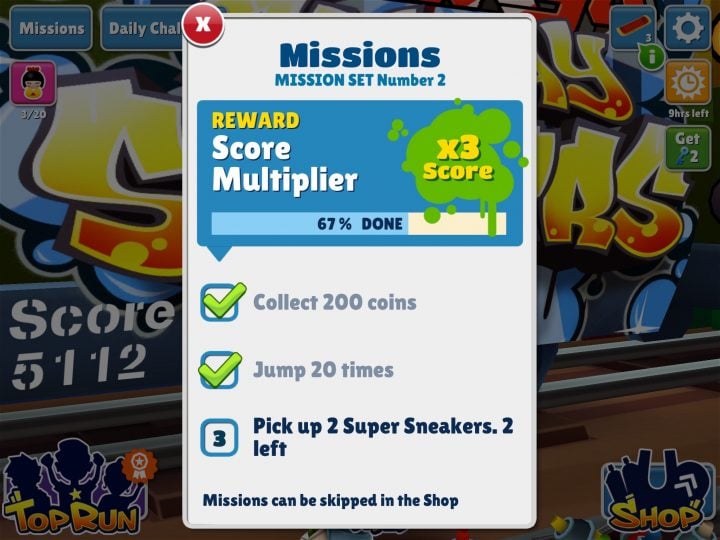 Missions consist of various goals that you're tasked to complete and when you complete all of them, you'll get a score multiplier that will allow you to achieve your high score.
Missions include things like picking up a certain number of special items or even just something simple as jumping a certain number of times.
Do the Daily Challenge to Get More Coins
Daily Challenges are perhaps the easiest way to receive more coins. You essentially have one day to pick up all of the letters of a word, which is usually pretty easy to do.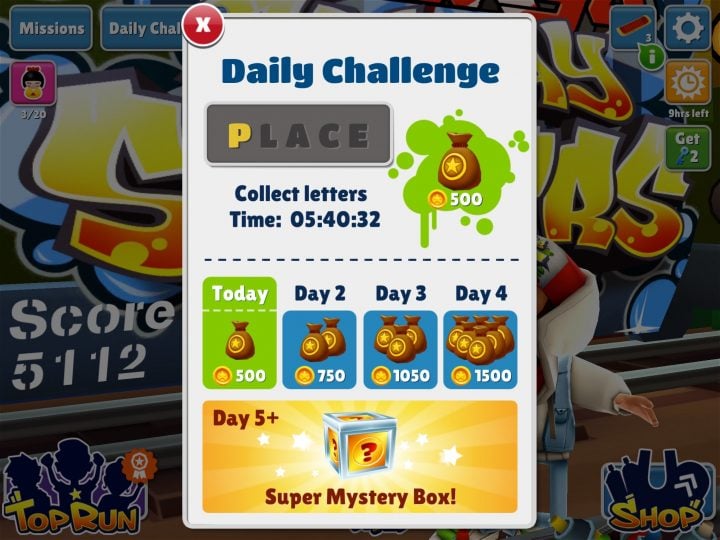 Of course, they get harder as the days go on, but you get more and more coins when you complete the challenges. Plus, on the fifth straight day that you complete a daily challenge, you'll receive a Mystery Box that could have up to 100,000 coins for you.
Stay Up High
While most of your running will likely be down on the subway tracks, take every opportunity you can to go running on top of the subway cars, which can be accessed by a subway car with a ramp on the front that you can run up.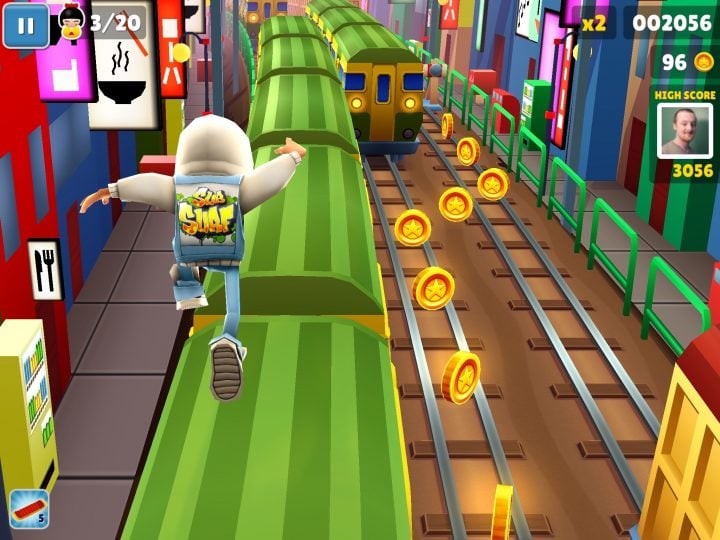 Running on top of subway cars gets rid of the need to avoid construction road blocks and dodging oncoming trains.
In fact, all you have to do is just jump from on car to another if there's another one directly in front of you, and usually these jumps will net you coins as well.
Look Out Far Ahead
Once you get deeper into Subway Surfers and are on a roll, more and more obstacles will appear ahead of you, which makes it critical that you should keep an eye out ahead of you.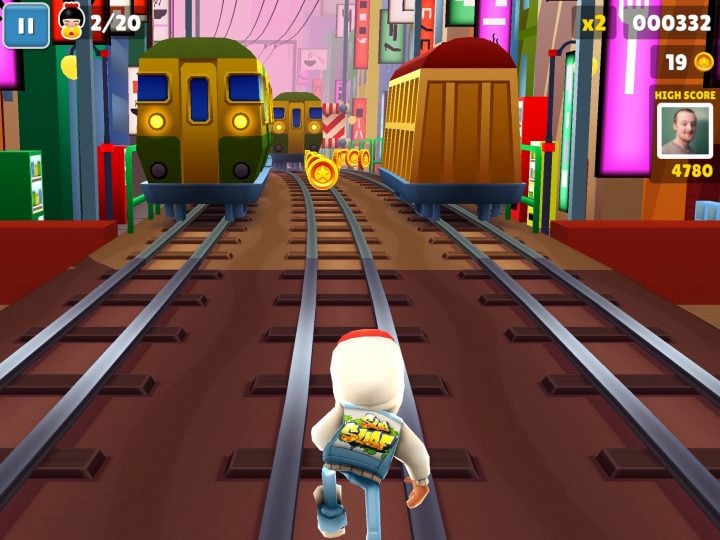 Sometimes oncoming trains can come so fast that you barely have time to dodge them, so it's always a good idea to look at the very top part of the screen, that way when you see a train just come into view, you'll hopefully have enough time to react.
Do More Than Just the Basics
When you first starting playing the game, it will teach you some of the basic moves that you can do, like jump, move side-to-side, and slide, but you can actually do more than that.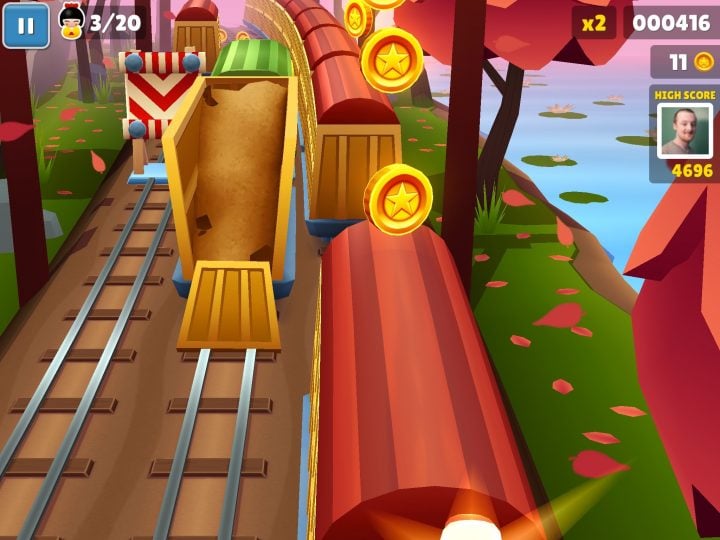 You can jump and then swipe left or right to dash to one side or the other while in mid air. You can also jump and then roll to cancel the jump and instantly roll, which can be helpful when using Super Sneakers.
Connect to Facebook to Get Free Stuff
I hate connecting my mobile games to Facebook just as much as the next person, but it's really not that bad. Connecting a game to Facebook doesn't mean that the game will post to your wall or anything, so you're safe from spamming your friends.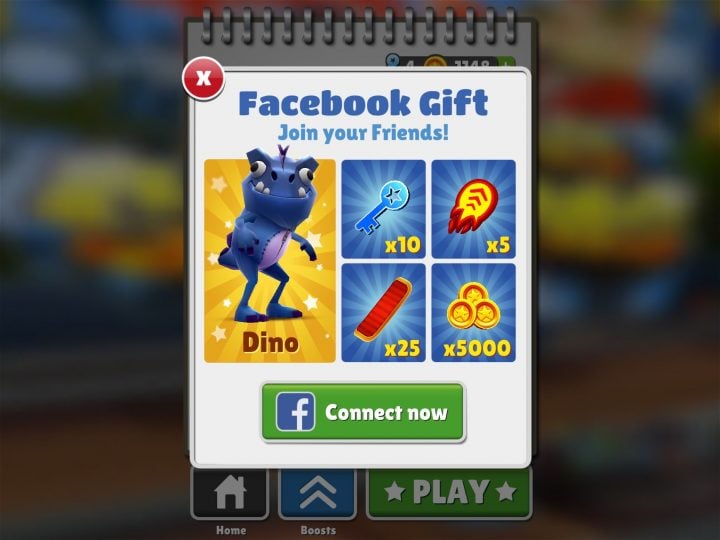 In a lot of games, connecting to Facebook doesn't really do a whole lot, but in Subway Surfers you can get a bunch of free stuff, like hoverboards, more coins, etc.
Play in Portrait Mode
If you play your games on iPad, you most likely prefer landscape mode, which is fine, but in Subway Surfers, you'll want to play in portrait mode for sure.
Landscape mode in Subway Surfers is pretty much useless, although you'll notice the images in this article are in landscape mode, which gives you an idea of how much is cut off the screen when you play in landscape mode.
Portrait mode gives you a much bigger field of view, making it easier to play.