SugarSync for Android Automatically Sends Your Photos to the Cloud
Now that we are using our phones as cameras more often, we are beginning to amass a collection of photos on these highly mobile devices. Many users will upload a photo or two to Facebook, but not as many will back up their photos to their computer by connecting their phone with a USB cable. Enter the latest SugarSync Android app which has a built in AutoSync feature that automatically syncs photos and specific folders to Sugar Sync so that your memories are always backed up.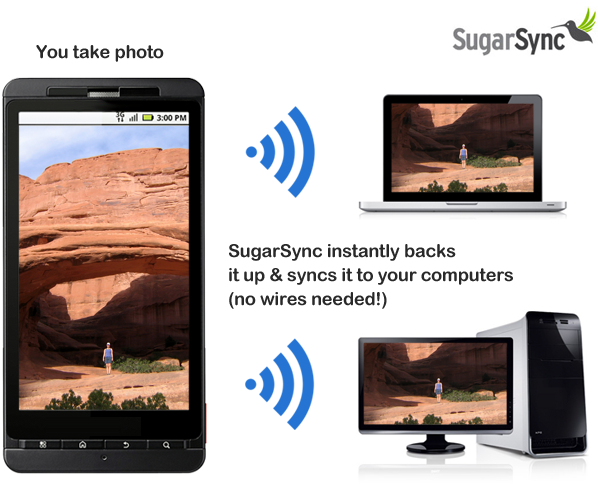 We really like the SugarSync app because you use the standard Android camera app, don't need to take any actions and there are no wires involved. There's no need to change your behavior or switch to a different app, just point, shoot and Sugarsync.
You can also use the folder autosync feature to keep a folder of documents in sync between your phone or tablet and you computer. Thanks to two-way sync, your files will always be up to date, no matter what device you are using.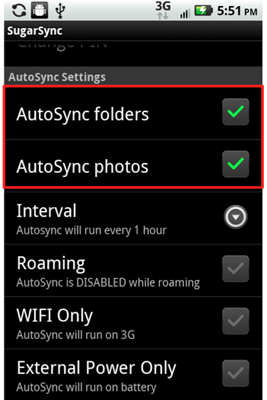 As you can see in the settings menu above, you can set sync to run based on the conditions you want so that you don't drain your battery, or blow through a metered data plan while you are on the road.
Users will also appreciate the fact that you don't have to open the SugarSync app to start the upload process. SugarSync looks for changes based on a timeframe you choose and will automatically back up your photos at that time without any further action.
You can get the SugarSync App for free in the Android market and signup for a free 5GB SugarSync account to take advantage of the photo syncing.