Summer Road Trip: Tech In Our Bag & On The Road
This week my family and I will be leaving on a long two-week trip around the Southeastern United States taking some of our favorite mobile tech toys with us. I thought I'd share with you what we are taking to make the journey fun and efficient. Last summer our editor Josh Smith took what he called the Great American Road Trip 2.0 in the upper midwest. I guess you could call this the Great American Road Trip 3.o: Southeastern Edition.
There will be six of us on the trip each bringing a phone and related accessories. We will also have several laptops, tablets and a number of automobile accessories to help us charge, listen to and mount our tech toys and gadgets in the car and hotels. Since I love to take pictures we will be bringing some photography gear too. Here's what we are packing for the trip.
MacBook Air or MacBook Pro?
You would immediately think that being mobile would mean I would pick my 13.3″ MacBook Air for this trip since it did such a good job for me when I was traveling to Wisconsin this winter. In fact, there are two reasons that I will instead be taking along my 15″ MacBook Pro – storage and power.
The MacBook Air only has a 256 GB solid state drive while my MacBook Pro has a 512GB hybrid hard drive. I plan to take a bunch of pictures and want my Adobe Photoshop Lightroom library on the hard drive without needing an external USB drive. This way I can import my photos after taking them and show them off to my family right away. That is just not possible on my MacBook Air since my library is already over 100GB with 11 years of digital photos, half of which are in RAW format. I know there are ways to access them through the Internet even if the pictures are at home, but why bother since my MacBook Pro makes it possible on the road.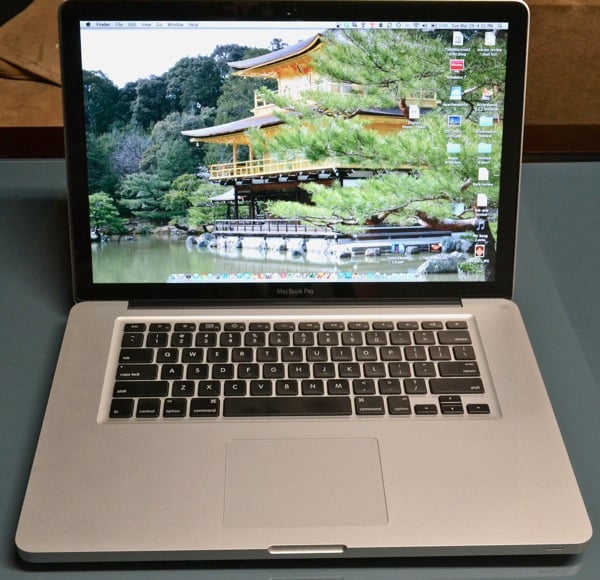 We will be in the car for hours on this trip. I want to be able to take my entire video library with me in iTunes. Just like my photo library I want it all on one drive. It will be easier to take a larger computer without the extra USB hard drive sucking power and taking up space in my bag.
Finally, I want to play some video games in the car as do my two teenage sons. The MacBook Air is not a great gaming machine.
We will also be bringing a couple of much older Windows machines that my wife and boys use for watching movies and getting online. One is a 4-year-old HP DV5T and the other is an Acer netbook.
Tablets
A tablet is the perfect tool for mobile entertainment . My wife and I both have iPads and I have the Acer Iconia Tab A500, which I am currently reviewing. With six of us, three tablets will do nicely for watching video, reading books and magazines, playing games and getting on the Internet.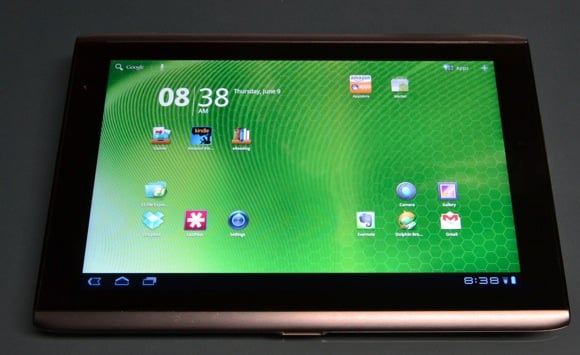 My wife goes nowhere without her Amazon Kindle, and the Nook Color that we rooted has found a home in my oldest son's backpack. They will be coming along as well.
Smartphones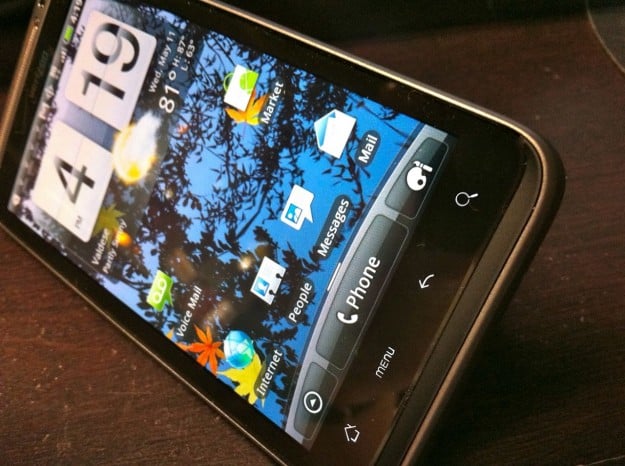 We have three iPhones and an HTC Thunderbolt in our family. The Thunderbolt and iPhone both serve as a great phones for checking email, Twitter, Facebook and getting text messages. We also plan to use them for checking for weather, traffic, GPS directions, and finding good deals on hotels, gas and the best places to eat. I will be posting an entire article on apps for the road in a few days.
Automobile Accessories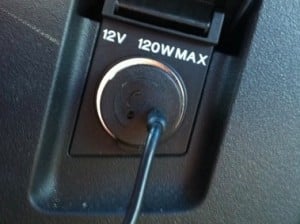 The Griffin BlueTrip Aux is a pretty mediocre tool for making hands free calls with a Bluetooth enabled phone. However, it is a great tool for untethered audio.
I have it in the DC port next to the auxiliary jack inside our Honda Pilot's arm rest. It is totally out-of-the-way with no wires running into the dash. The BlueTrip automatically reconnects to the phone each time I get into the Pilot and that way I can listen to Audible audio books, music or podcasts while I drive. I never have to plug-in since it connects my phone with my car stereo via Bluetooth.
On this trip I will be testing out the Bracketron Universal USB Power Dock which is a smart phone cradle as well as a DC charger. The whole unit mounts to the car by plugging into a dashboard DC port (cigarette lighter) and holds the phone in a universal cradle that grabs the phone with two adjustable clamps on the side and a pair of protruding "fingers" that the phone rests on at the bottom.
Below the cradle is another DC port for a pass through power source and a USB port for charging your phone or some other device. You can use it for keeping your GPS app front and center on your smart phone while driving. I will let you know whether it is a useful accessory for your car and phone.
Cameras
My Nikon D3100 DSLR camera will help me get some family snapshots, pictures of various tourist attractions and shots of the sun coming up or going down over the Gulf of Mexico or Atlantic Ocean. It also shoots excellent HD video, so I'll have it ready to get the necessary family vacation videos that we will show to our grandkids in order to embarrass our kids.
Along with the camera, I have a 4GB Eye-fi SD card. It stores up to 4GB of photos and videos and has an integrated Wi-Fi radio so that it will automatically offload the images to the online storage, my Photobucket and Flickr accounts and my computer. Each night I will fire up my MacBook and import the files into the computer via Wi-Fi instead of having to plug it in directly. In fact the files will import automatically because I've set up my HTC Thunderbolt's Wi-Fi Mobile Hotspot feature with the Eye-fi. The pictures will off-load from the camera as soon as the phone's hotspot feature is turned on.
Since I'm not the only shutterbug in the family, we will also have a Canon PowerShot SD1300 IS and the now defunct but still great Flip Ultra HD video camera so my wife and kids can take pictures too. For those who don't need or want a bulky DSLR, these two little cameras are perfect for compact travel solutions. The Canon takes some really good shots and is small. The battery on it lasts a long time. The Flip Ultra HD is still available in many places like Best Buy or Amazon. It takes surprisingly good HD video if you are close to your subject. If you are nervous about buying a product that the company no longer makes, I've read good things about the Kodak  Playsport which is a similar camera and has the added benefit of being waterproof.
Charging All the Batteries
To get all of this tech charged up and running, we have some mobile tools. First up is the SolBat II that we previously reviewed. This device is the size of a deck of cards and fastens to your window with suction cups. The solar panels on the device charge the battery. It has a USB cable for charging the battery when there is not enough sun. The other USB port powers and charges USB devices like my iPhone or Thunderbolt.
We are also bringing a DC to AC converter with 150 watts of power. We bought a more powerful one from CyberPower which provides 400 watts of power, but it was flimsy and the two plugs were impossible to plug anything into the converter. As I pushed a plug into it I had to use so much force that I broke the cable that connects to the cigarette lighter. I took it back to the store and bought a Targus Auto/Air Power Inverter Slimline. It is more compact but also provides only 150 watts of power. We will only plug one notebook and one smaller device like a phone into the device at once. It has one AC power outlet and one USB power outlet.
Since many hotels only have a few power outlets, we are bringing the water proof WetCircuits power strip that we featured in our Notebooks.com Father's Day 2011 Gift Guide. It provides four waterproof and shock-proof outlets. If one of the kids spills a drink on it, it won't short out or cause a fire. We can unplug it from the DC converter so everyone can charge their phone at once if needed and we can take it into our hotel for charing all the gear overnight.
Finally, we have a Belkin USB power adapter. This plugs into a wall outlet or the WetCircuits strip and provides USB charging for two small devices.
Carrying It All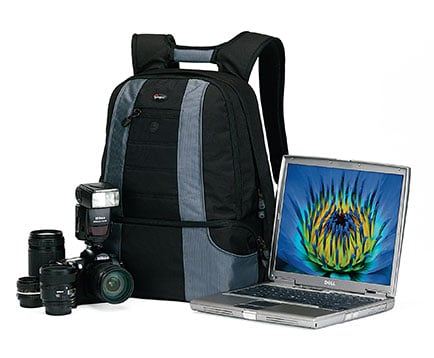 To carry all of my tech toys I bought the LowePro CompuDayPack. The backpack is large enough to hold my 15″ MacBook Pro, two tablets and my Nikon D3100 DSLR. It has a bottom compartment for the camera, two lenses, and accessories. They are snug in there, but they do fit. It also has a padded compartment for my computer at the top (up to a 15″ computer). Two zippers easily open so I can quickly pull it out even in the car while my wife is driving. The large compartment in front of the computer compartment houses tons of accessories and has a lot of pockets and one large zippered pouch and two smaller ones. The larger pouch has all my cables. The two smaller ones have my iPad accessories. There is ample space in that compartment for my MacSafe charger, a Razer Orochi Bluetooth mouse, and my over the ear headphones.