Sumocat's Ideal On-Screen Tablet PC Toolbar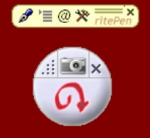 Newly annointed Tabet PC MVP Mark Sumocat Sumimoto has a great post detailing how he uses aspects of two Tablet PC applications to create his ideal toolbar. Using the macro functionality of RitePen 3.0 and the scroll ring from InkSeine, Sumocat says he's able to access anything he needs to on his Tablet PC with the pen. I have to agree, it is a powerful combinaton for pen users. Check out the post here  which of course is all in Ink.

As an Amazon Associate I earn from qualifying purchases.