Surface Pro 5 Release Date, News, Specs and Rumors
The Microsoft Surface Pro 5 release is still somewhat of a mystery, but it's never too early to start thinking about what's coming next. With that in mind, here's the latest Surface Pro news, rumors, release details and everything else you need to know.
Considering the last Surface Pro (2017) is over a year old, excitement is starting to build about a potential Surface Pro 5 in 2018 or early 2019. Or is it the Surface Pro 6? This next model is technically the 6th generation Surface. Additionally, a new Surface Mini is reportedly in the works.
Read: Surface Pro 2019: 4 Reasons to Wait & 4 Reasons Not to 
Microsoft's new slate will have to compete with the latest iPad, a slew of Google Chromebook devices, and even Microsoft's own discounted Pro (2017) and Surface Book. And from what we're hearing, it'll do exactly that.
Surface Pro 5 Release Date (or 6): Early-Mid 2019
What is the Surface Pro 5: Microsoft's next powerful 2-in-1 laptop/tablet computer
What to expect?: Upgrades across the board: Display, battery life, connectivity (USB C), Surface Pen, processor, RAM and more.
How Much Will it Cost?: Starting at $799, so the same or more than previous years
Now that you know a few of the basics and we've answered some important questions, read on for the latest news and rumors. We'll cover anything about a new Surface Pro, the Surface Mini "pocketable" and more.
Latest Surface Pro 2019 News
Nearly two years ago we were certain a new Surface Pro 5 was coming. That never happened, and eventually the aptly named "Surface Pro" arrived in 2017. Now, over a year later, rumor mills are starting to churn again over what Microsoft has in store next.
According to reports from ZDNet, Microsoft is planning a major redesign for its new Surface in 2019. However, Bloomberg suggests the company wants to offer a low-cost tablet to rival the iPad and compete with Chromebooks. We'll probably see both. A beautiful high-end Surface Pro 5 or 6 with tons of upgrades, then a more modest option for those on a budget. The cheaper model might even arrive in 2018.
And while we don't have too much to go on or even a name, information from Thurrott.com claims the new Surface is known internally as "Carmel". Either way, this will be an extremely important launch for Microsoft.
Just know that a new Surface will likely have a beautiful OLED display, the latest processor and GPU, improved battery life, more connectivity options, built-in 4G LTE, and more all along with a stylish new design and a better Pen.
Microsoft Surface Pro 5 (2019) Release Date
In June of 2017, the company released a Surface Pro (2017) and that's the last one. So while Microsoft made some smaller updates to the Surface Pro like LTE support for mobile data and more memory, we expected more. That "more" will come later this year or in early 2019.
When will enthusiasts or Windows 10 fans actually get another one? We're not really sure. Multiple sources seem positive that it'll be here in early 2019, but ZDNet's Mary Jo Foley said she was told mid-2019. If a mid-arrival is accurate, that means Microsoft took two years to make another 2-in-1. Here's a timeline of release dates to help you make up your own mind.
Surface Pro: February 2013
Surface Pro 2: Late October 2013
Surface Pro 3: June 2014
Surface Pro 4: October 26, 2015
Surface Pro (2017): June 15, 2017
Could we end up waiting until Microsoft Build 2019 in May? We'll have to wait and see. To bridge the gap Microsoft may release an affordable option during the back-to-school months, or it's secret new portable Surface.
New Surface Pro: What You Need to Know (The Important Stuff)
While it's too early to start talking about a complete redesign, or the specs, a new 2-in-1 is on the horizon and there are some obvious places they can and will improve. In fact, one Surface Pro 5 rumor suggests the company will use a new Qualcomm Snapdragon processor typically reserved for smartphones, like the upcoming Snapdragon 855. This will allow the device to wake instantly, yet sip on battery for days while on standby. That's just one of many models, as the high-end option will run a powerful Intel chip.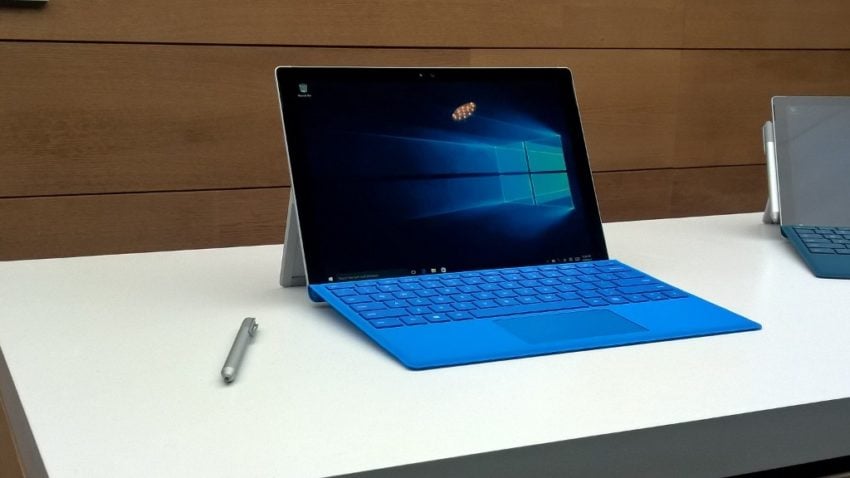 What we do know is that with a 2-year wait you can expect a major design overhaul, tons of improvements across the board, and one powerful new device.
We're talking about a new OLED display with smaller bezels, an even thinner low-profile design, better battery life, and more connectivity. When we say more connectivity we mean multiple USB Type-C ports or even a few Thunderbolt 3 ports to hook it up to an external display. Microsoft will also deliver more storage options, additional RAM (memory), and Intel's latest 8th generation processors.
A lot of this simply makes sense, especially because Microsoft adopted it on the Surface Book 2. Like USB Type-C or 4G LTE for mobile data.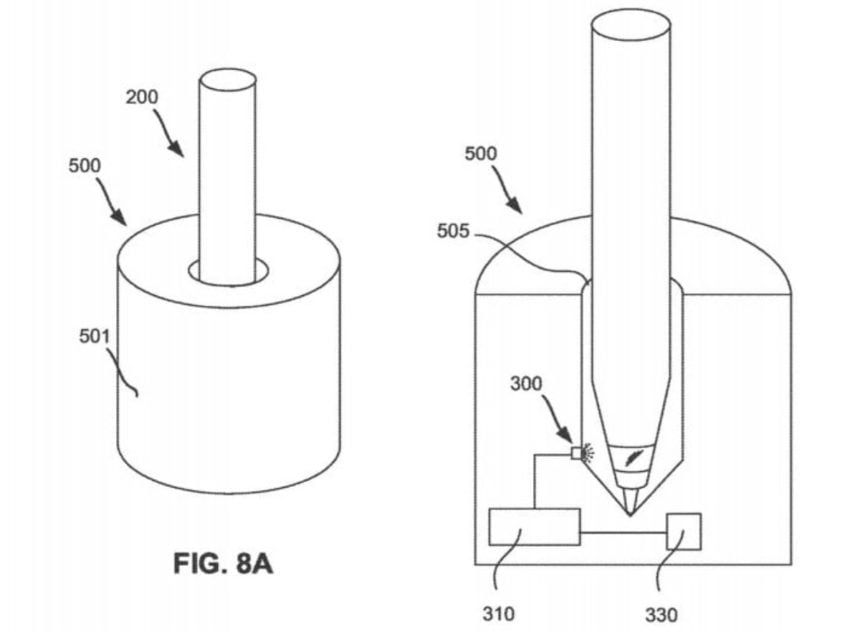 Then, expect a massive upgrade to the Surface Pen. From potentially a retractable tip, haptic feedback, or even a display with more points of sensitivity for a more accurate digital pen experience. We even saw a rumor (and patent) that claims the Surface Pen will never need a recharge again. That's because it'll suck battery from the Surface screen as you use it. Wouldn't that be neat?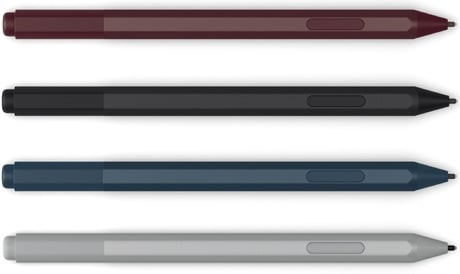 A Smaller & Cheaper Second Surface Mini (Pocketable)
Earlier we mentioned a report from Bloomberg that states Microsoft wants to compete with the iPad. They could potentially do this by offering two different sizes of the Surface. Essentially a Surface Pro for 2019, and a smaller Surface Mini. The Surface Book 2 comes in two sizes, so this does make sense.
Hype suggests the smaller Surface would target emerging and education markets, and come in around $400. This will likely have a smaller 10-inch screen or even a folding display like we've seen in patent filings. We're hearing codenames of Libra, Lex, and Andromeda. The last one is potentially Microsoft's new affordable and "pocketable" Windows device.
Speaking of a Pocketable Surface Mini, a new report from The Verge just outed Microsoft's big secret. They revealed internal emails talking about the company's new "dual-screen pocketable Surface" device. This is the "Andromeda" from earlier reports, and Microsoft believes it'll blur the lines between PC and mobile. It could have a foldable design with a curved display so the fold blends seamlessly together, without a big border like we've seen on similar foldable devices.
The report goes on to state Microsoft has secretly worked on this for over two years and wants to release the first one before the end of 2018. Then, top OEM partners will offer similar devices. The Surface Mini could come in under $600 and look similar to the concept images below.
@zacbowden @h0x0d @windowscentral #Surface Andromeda Render according to the latest patents pic.twitter.com/CmbvlfETtU

— David Breyer (@D_Breyer) December 18, 2017
New Surface Pro 5 Price
With rumors suggesting at least 1-2 new Surface devices within the next 8-10 months, pricing is somewhat up in the air. That said, Microsoft typically asks the same price for its entry-level device. Based on previous years the Surface Pro 5 (or 6) will cost around $799 for the base model but quickly reach to over $1,000 and counting once you add a few things to the package.
Basically, you can expect Microsoft to stick to its usual pricing whenever it gets around to releasing a new Surface. If they do bump up the price, they'll need some serious upgrades over earlier generations. We're talking about more than just a spec bump and a slightly better display.
At the end of the day we're expecting a cheaper or smaller Surface sometime in the near future, then a high-end true Surface Pro 2019, Surface Pro 5, or Surface Pro 6 sometime next year with all the bells and whistles.
Final Thoughts
In closing, we still don't know too much about what's coming next from Microsoft. If they want to release a smaller budget device soon, they better start in time for the back-to-school season. We're also assuming the company wants to integrate things like a fingerprint scanner, Cortana, Windows Hello, and more to make this the best Surface Pro yet.
As 2018 continues and we inch toward 2019 you can expect more Surface Pro 5 news, rumors and leaks. Once they arrive we'll update this post with all the details.

As an Amazon Associate I earn from qualifying purchases.