Survey Says: Apple Has 95% of Tablet Market. Well, Duh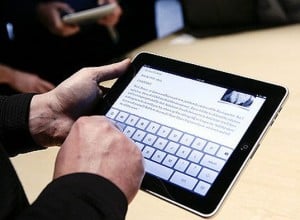 Big news. Actually big news that isn't news. Actually it isn't news, but it is playing like it is big news. Bloomberg is reporting that Strategy Analytics has been working hard combing through data and crunching numbers and has figured out that as of the end of Q3, Apple is leading the Tablet/Slate market with a 95% share.
It makes me wonder who has the other 5%, given that we're just starting to see most of these other Tablets start to ship globally. Even more curious Android based Tablets started to slide in Q3 according to the report. I'm not sure how there could be much of a slide given what few Android Tablets were on the market only began hitting in August or so.
Maybe I'm off base here, and call me on it if you think I am, but isn't this just another example as to why traditional media is falling so far behind. It doesn't take a journalist or an analyst to tell you that at the moment Apple is way ahead. And by the way you can buy the report for $6,999 if you really want to delve into the facts. Please tell me no one buys this report. I'm guessing the big 95% number is being used to set up a "Apple's Share of Tablet Market Declines" analysis in say, January.

As an Amazon Associate I earn from qualifying purchases.