Swipe control Pac-Man in today's Google Doodle
Google is celebrating the 30th anniversary of Pac-Man by not only patterning today's Google Doodle after the game maze, but also making the Doodle a playable game. If that's not crazy enough, it's playable on handhelds using swipe control!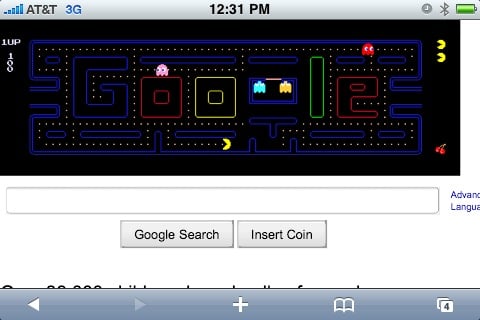 Running with a tip I read from a comment on Gizmodo, I popped open Google on my iPhone, switched to Classic view to get to the Doodle, and tried tapping the edges to move Pac-Man around. Worked well enough, but felt clumsy. When I tried to move away from the game, I found the touch scrolling didn't work, but Pac-Man turned to match the direction. Sure enough, Google Doodle Pac-Man can be controlled with swipe gestures.
Game is pretty slow on my iPhone 3G but the swipe control is surprisingly smooth. I imagine it's faster on a 3GS and also works on Android devices (don't have my Droid on me). Feel free to confirm and celebrate Pac-Man's 30th on your Android device, iPhone 3GS, other smartphone or iPad.