T-Mobile and Sprint's Samsung Galaxy S II Smartphones Compared
Today T-Mobile finally released all of the details on their version of the Samsung Galaxy S II, cleverly dubbed… the Galaxy S II. Unlike Sprint, who added Epic 4G Touch to the end of the Galaxy moniker, T-Mobile didn't give their new phone an extra name. The differences don't end there. T-Mobile's Galaxy S II has some other surprises in store.
The biggest difference between the T-Mo Galaxy S II and the Sprint Epic 4G Touch is the processor inside. Sprint's version has a dual-core Samsung 1.2 GHz Exynos CPU while the T-Mobile model has a 1.5 GHz dual-core Qualcomm Snapdragon S3 processor. In his review, Chuong noted that the Exynos processor provided snappy performance and seemed a little faster than a Qualcomm chip with the same clock speed. However, the T-Mo model has a higher clock speed, which should mean more power. It will be interesting to test the performance delta.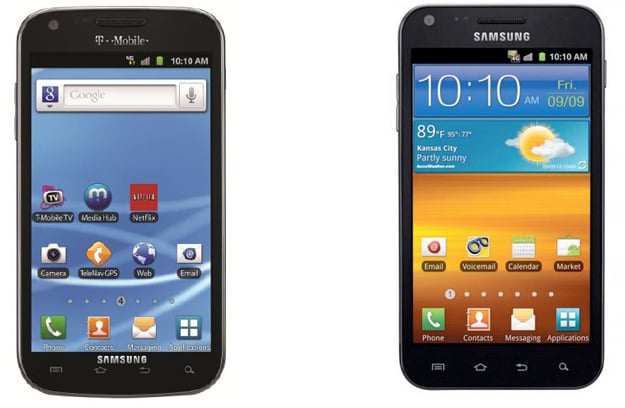 T-Mobile's Galaxy S II has NFC (Near Field Communication) enabled while Sprint's does not. NFC is a key component of Google Wallet and other services on the horizon. It might not be very useful at the moment, though having the feature enabled future-proofs the phone somewhat.
As the two phones are on different network different connectivity options are a given. T-Mobile is sticking with HSPA+ for the near future and the Galaxy S II is HSPA+ 42 ready (one of only two phones on the network at this time). However, one drawback of T-Mobile's "unlimited" data plan is that, once you hit 2GB of data, the carrier throttles users back to a slower speed automatically. Currently, Sprints 4G/WiMAX unlimited plan doesn't have this restriction on phone data usage. However, there is a 5GB cap on data when tethered to a computer.
Will these differences make or break decisions for consumers looking to buy the latest Galaxy S phone? I predict that the CPU might, if the performance it delivers is even better than the Epic 4G Touch. The Galaxy S II will be available from T-Mobile on October 12 (pre-orders begin on the 10th), so we won't have to wait long to find out.

As an Amazon Associate I earn from qualifying purchases.