T-Mobile Apologizes for Pushing Notification Bar Ads on Android Handsets
After creating an uproar among its subscribers for pushing out advertisement for its own T-Mobile VIP Zone service to the Android notification bar operating under T-Mobile USA's network, the nation's fourth largest carrier is now apologizing for its actions and states that it has stopped all advertising push to the notification bar. Users had begun noticing that the notification bar ads started to appear after a recent app update to T-Mobile's own My Account app. Prior to that app update, advertisement for T-Mobile branded services were confined to within the app itself, but users began noticing that ads were more prominently pushed to the top of the notification drop down-bar on their Android smartphones after the app was updated, creating some uproar and speculation as to whether or not T-Mobile USA will continue that practice in the future and with non-branded services and goods as well.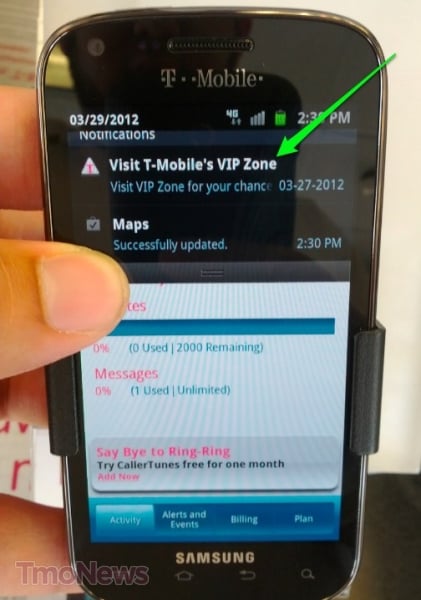 In response to user outcry, T-Mobile says that the pushed ads were a mistake and vows that it won't happen again. The carrier told TmoNews:
During a recent software update, a message to promote T-Mobile's free VIP Zone was mistakenly sent to certain customers and appeared on the notification bar for some Android devices. After T-Mobile was made aware of this mistake, the company stopped the notifications. T-Mobile apologizes for the inconvenience this may have caused customers.
Though the carrier claims that the T-Mobile VIP Zone ads were mistakenly pushed out to the notification bar, notification bar ads are not new. Various third-party apps–particularly free ads–have employed this tactic in the past. The practice is a bit troublesome in that it gets prominent placement next to legitimate alerts, like those for email and missed calls, and are hard to dismiss on older Android handsets. On phones and tablets running older versions of the Android operating system, you cannot dismiss individual alerts and you would have to dismiss all your notifications at the same time to get rid of the ad so you cannot reserve important notification for later attention.
Via: TmoNews

As an Amazon Associate I earn from qualifying purchases.