T-Mobile G2x Price Jumping to $300 Tomorrow?
A leaked document indicates that T-Mobile is planning on increasing the price of the G2x because of 'inventory constraints' that have knocked the device out of T-Mobile's online store.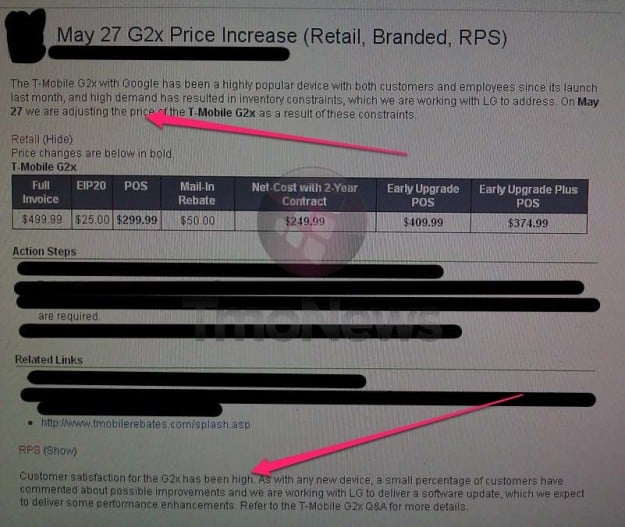 Yesterday, it became clear that T-Mobile was dealing with a host of problems in regards to its LG-made, dual-core smartphone, the G2x. Not only did it admit that the device was plagued by software issues, but the carrier also confirmed that supply issues were to blame for its unavailability on its website.
When it rains it pours and now it looks like the mobile carrier will be offering the phone tomorrow with a price that's been increased to $250 after a $50 mail-in rebate.  There is a possibility that this might only be a temporary increase, that of course remains to be seen.
When the device's stock vanished from T-Mobile's website yesterday, speculation immediately rested on the device's random reboot issues, issues that have been driving owners crazy since the phone's release and issues that T-Mobile says it will be fixing.
As you can see, the document here again shows T-Mobile's stance on the matter with the carrier claiming that only a small percentage of G2x owners have been experiencing the issues. From what we've seen and heard, it's a much bigger problem than that, but at least the company has given owners assurance about a fix. It needs to come soon though, especially if the price of the device jumps up to $250 tomorrow.
Via: TMoNews

As an Amazon Associate I earn from qualifying purchases.